Lindsay Lohan Says She's Considering a Presidential Bid in 2020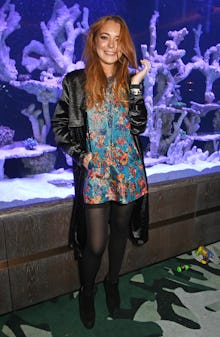 It is the year 2020, and Lindsay Lohan is running for president.
That's the strange future the 29-year-old actress offered up on Friday, posting a photo of herself to Instagram with the caption "In #2020 I may run for president. Through ups and downs #YESWECAN lets do this @kanyewest ???????? #truespirits thank your for inspiring us to be better people @barackobama #kanyewest2020 #lindsaylohanat35 #lindsaylohan2020 with #34yearsofEXPERIENCE ???????? #unitingWORLDnations @aliforneycenter @savethesociety @unicef".
In a subsequent post, Lohan said she would "take care of all the children suffering" in her first act as president.
Lohan seems to be referring to hip-hop mogul Kanye West's statement at the MTV Video Music Awards in September, when he told the crowd, "It's about ideas. New ideas. People with ideas. People who believe in truth ... I have decided in 2020 to run for president." (West also explained "I rolled up a little something" before getting onstage which "knocked the edge off.")
Born in July 1986, Lohan would be 34 years old in 2020. The requirements to become a presidential candidate, which stem from the Constitution, state that candidates must be natural-born U.S. citizens who have lived in the country for a minimum of 14 years and are at least 35 years of age, according to the Library of Congress.
In 2012, Lohan said she would be voting for Republican nominee Mitt Romney to help the economy.
It is unclear how serious Lohan is, though people are mostly skeptical.
Hopefully, announcing you're running for president isn't going to become a celebrity fad in 2016.