Bradley Cooper Says He'll Tell Female Costars What He Makes to Promote Equal Pay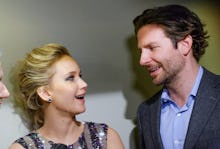 Film star Bradley Cooper is taking a big stand for gender equality in Hollywood paychecks.
In an interview with Reuters, Cooper said he will begin sharing the pay he is offered for films to his female costars to help them better their negotiating position.
After hearing Jennifer Lawrence and Amy Adams made less than any of their male costars in 2013's American Hustle, Cooper says he became frustrated with a movie industry that pays women less.
"I got mad at myself. I failed as a negotiator because I gave up early," Lawrence said, according to Reuters. 
Cooper told the news organization Adams "worked everyday on that movie and got paid nothing. It's really horrible actually, it's almost embarrassing ... [she] should have been paid more than everybody."
"I don't know where it's changing otherwise but that's something that I could do," Cooper told Reuters. "Usually you don't talk about the financial stuff, you have people. But you know what? It's time to start doing that."
In addition to a pronounced diversity problem in casting, female stars consistently earn less than male stars in Hollywood. Hacked emails from Sony revealed that while American Hustler stars Christian Bale, Jeremy Renner and Cooper each earned roughly 9% of the talent budget, Adams and Lawrence earned significantly less at 7%.
Experiments have shown women are at a disadvantage in negotiations, although when women have access to equal amounts of bargaining information and have more experience striking a deal, the gap significantly shrinks.
Joachim Hüffmeier, a researcher with the Federal Institute for Occupational Safety and Health in Dortmund, Germany, told the American Psychological Association, "It looks as though gender roles no longer give men a bargaining advantage if women are trained in negotiation, have information about the bargaining range and if they are negotiating for other individuals."
h/t Reuters