Extremist Stabs Pro-Refugee Mayoral Candidate in Germany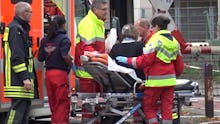 A leading pro-refugee mayoral candidate in the city of Cologne, Germany, was brutally attacked a day before the election by a man who reportedly said the crime was motivated by anti-immigration sentiment.
The Associated Press reports 58-year-old Henriette Reker was slashed in the neck on Saturday "at a campaign stand set up by Chancellor Angela Merkel's Christian Democrats at a market." Reker, who leads the social affairs and integration department in Cologne, is expected to recover from the attack, though another woman was "seriously wounded" and three others received "minor injuries."
Germany has committed to taking an expected 800,000 refugees before the end of the year. Fox News reports the 10,000 refugees arriving on a daily basis have triggered tensions over multiculturalism, immigration and refugee rights. Many of the refugees have been psychologically traumatized by the ongoing conflicts in Afghanistan, Syria and Iraq, with displaced persons from other countries adding to the need for resources.
Reker, who is running for mayor of Germany's fourth-largest city, says she will "secure humane accommodation and support for refugees" should she win Sunday's election.
In early September, German and Austrian officials began admitting tens of thousands of refugees who were turned away from Hungary and other countries with a harsher attitude towards the migrants, in a triumphant event captured in powerful photos.
Der Spiegel writes some Germans have turned against the refugees amid "tremendous uncertainty" over how they can be successfully integrated into German society.
"It's gotten a bit too much for us," a 31-year-old resident told the paper. "Too much noise, too many refugees, too much garbage." Another German identified as "Ralf" told Der Spiegel, "you do feel sorry for them. But there are just too many of them here now."
In August, the German government said it would fight extremist attacks on migrants following riots involving 200 protesters outside refugee camps near Dresden.