Chris Mintz, Man Who Tried to Stop UCC Shooter, Describes Awful Ordeal in Facebook Post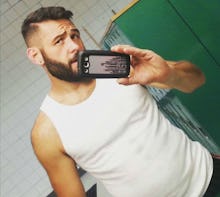 Christopher Mintz, the 30-year-old U.S. military combat veteran who was shot five times while attempting to stop a mass shooting at Umpqua Community College in Roseburg, Oregon, has taken to Facebook to describe the horrible experience of living through the mass murder of nine other people and attempted murder of nine others, including himself.
In the post, Mintz described the chaos and uncertainty on campus, including his urging other students to leave and encountering the killer Christopher Harper-Mercer, who told him "that's what you get for calling the cops" as he lay wounded on the ground.
"All of a sudden, the shooter opened the classroom door beside the door to my left, he leaned half of his torso out and started shooting as I turned toward him," wrote Mintz.
Harper-Mercer "had a black shirt on, a shaved head, was tan and wearing glasses, he was so nonchalant through it all, like he was playing a video game and showed no emotion," Mintz wrote. "The shots knocked me to the ground and felt like a truck hit me."
Later, Mintz writes, "An EMT I am friends with was one of the first responders on the scene. I looked up and saw him walk up to the classroom door and said, 'hey buddy' he looked at me and responded 'hey.' When I saw him, I knew we were all going to be OK."
A GoFundMe page dedicated to paying for Mintz's medical bills raised approximately $800,000 in the days following the shooting, after media outlets reported his story.
While Mintz will likely require extensive physical therapy, he is expected to recover from the wounds he received. A petition circulating on whitehouse.gov is requesting President Obama honor him with the Presidential Medal of Freedom.
h/t Mashable