1 Killed, 5 Injured After Gunfire Erupts at Fort Myers' Zombicon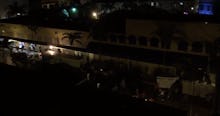 One person was killed and five more were injured at the undead-themed Zombicon in Fort Myers, Florida, on Saturday night after an unknown assailant fired a weapon during the festivities.
CNN identified the deceased as 20-year-old Expavious Tyrell Taylor of Okeechobee, Florida, citing a spokesman from the Fort Myers Police Department. According to CNN, one of the injured refused medical treatment.
"The organizers of Zombicon, Pushing DaiZies Inc., are deeply saddened by the news of what happened within the footprint of our event," local charity Pushing Daizies wrote on Facebook. "We take the safety of our patrons very seriously and take precautions in hiring security and police officers for our annual event. Our prayers go out to the family members and individuals involved in the incident."
Video captured hundreds of people fleeing the scene as shots were fired.
According to USA Today, Zombicon's attendance may have been as high as 20,000.
"I was in shock. I was paralyzed from fear ... I honestly thought when I was running toward the hotel, I honestly thought I was going to die ... all I was thinking was run," an anonymous witness told NBC 2. "[The shooter]'s not a person, he's just an animal ... he changed thousands of people's lives in less than five seconds."