Lowering Water Levels in This Magical Mexican Reservoir Reveal a Colonial Church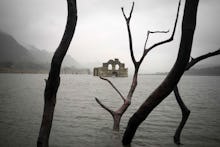 In Chiapas, Mexico, a recent drought has partially dried up the Grijalva river, only to reveal a hidden wonder. 
The Nezahualcoyotl reservoir water levels have dropped by nearly 100 feet, exposing the Temple of Santiago, a 16th century church also known as the Temple of Quechula.
Nezahualcoyotl reservoir was created with the construction of a dam in 1966, which resulted in the submersion of the church. The temple has been exposed only once since then, in 2002, when water levels dropped so dramatically, visitors were able to walk around inside the church.
Both then and now, local fishermen have taken visitors on tours of the colonial architectural jewel, catching and cooking local fish for the curious visitors. "The people celebrated," Leonel Mendoza, a fisherman offering such boat tours, told the Associated Press. "They came to eat, to hang out, to do business. I sold them fried fish. They did processions around the church."
The structure was built in the mid-16th century by monks led by Friar Bartolome de las Casas, a Spanish missionary who exposed the existence and advocated for the end of colonial slavery. 
A few hundred years later, the Temple of Santiago was deserted. 
"The church was abandoned due [to] the big plagues of 1773-1776," Carlos Navarete, an architect who worked with the government on an assessment of the church, told the Associated Press.
The Instagram account "exploringchiapas," shows visitors exploring the old church in August.