3-Year-Old Boy Shot and Killed By 6-Year-Old Brother During Game of Cops and Robbers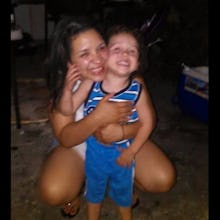 Tragedy struck a Chicago family this past weekend after a 6-year-old boy shot and killed his 3-year-old brother with their father's revolver during a game of cops and robbers. 
Eian Santiago, 3, was shot in the face while eating macaroni and cheese, the New York Daily News reported. 
The 6-year-old, who has not been named, used a loaded gun his father kept on top of the refrigerator. The boys' father, 25-year-old Michael Santiago, a former member of Chicago's Spanish Cobras gang, said he bought the gun for protection after testifying against another gang member at a murder trial. 
A week before the shooting, the elder Santiago revealed the location of the gun, which he kept wrapped in pajama pants, to his oldest son. The weapon was also purchased illegally from another gang member. 
"About a week prior to the shooting, he showed his older son where he kept the gun. ... (Santiago) took the gun from on top of the refrigerator, unwrapped the pajama pants and explained to the 6-year-old that the gun was only to be used by adults," Cook County prosecutor Joseph DiBella told the Chicago Tribune.  
Neither Santiago nor his wife Angelina Lasalle were home at the time of the shooting; the incident was first reported by the boy's grandfather. 
The boys' father is now under arrest and being held on $75,000 bond on charges of felony child endangerment, the Chicago Tribune reported. 
The incident is only the latest in a long string of children finding the guns of their parents and relatives with terrible consequences. Far from macabre media fascination, the numbers show that toddlers in the United States have been involved in shootings on a roughly weekly basis throughout 2015. 
According to data compiled by the Washington Post, since the year began, 13 children aged 3 or younger have accidentally killed themselves, 18 injured themselves, 10 more hurt other people and two killed people.
Earlier this month, a 2-year-old in South Carolina shot his grandmother in the back after finding a pistol in the back seat of the car he was riding in; in Tennessee, an 11-year-old shot and killed an 8-year-old neighbor with a 12-gauge shotgun. 
Back in April, a 1-year-old became the 24th child killed by gun violence after another child picked up an unsecured firearm. 
There was also the 2014 case of a Florida 6-year-old who made headlines after accidentally killing his grandfather when he found his uncle's rifle. 
In Nashville in 2013, a 4-year-old picked up a loaded pistol and shot the wife of a sheriff's deputy dead at a barbecue. That same year, another child killed his 2-year-old sister with a rifle he received as a birthday present. 
In 2000, Dedrick Owens became the youngest school shooter in history at age 6 when he shot and killed classmate Kayla Rolland with a handgun he found in his uncle's home. 
In fact, there's a long, growing list of such incidents of kids and gun violence. 
In Chicago, the site of the most recent tragedy, it is unclear what happens next for the 6-year-old. 
"He's OK," his grandfather Hector Salgado, told the Chicago Tribune. "He doesn't even remember. He doesn't know nothing about it. He thinks his brother is in the hospital sick."