Watch Miley Cyrus Perform at James Franco's Charity Bar Mitzvah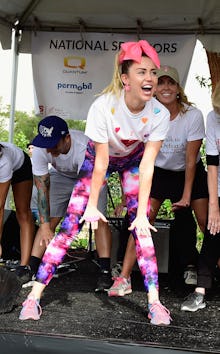 Leave it to Miley Cyrus to show up to a charity bar mitzvah wearing a shiny gold cape with the words "shalom y'all" embroidered on it.
Seth Rogen threw a bar mitzvah Saturday for James Franco, his co-star in The Interview. It was an event one might consider strange considering Franco is 37, not 13. This wasn't just a joke on Rogen's part about Franco becoming a man, however — it was an event for Rogen's philanthropic Hilarity for Charity.
Founded by Rogen and his wife, Lauren Miller Rogen, Hilarity for Charity is a charitable organization for funding Alzheimer's research and raising awareness of the disease. This is the fourth year Hilarity for Charity has hosted a variety show, this year sponsored by Funny or Die.
Cyrus was one of a few performers, which included girl band Haim performing "Hava Nagila" and actor Jeff Goldblum pretending to perform a circumcision on Franco. 
Yet Cyrus, unsurprisingly, managed to steal the show. Wearing a blue-and-gold unitard, with the celebratory cape tied on, she performed backed by a band called the Super Jews. On the set list: her 2013 hit "We Can't Stop," as well as a cover of "Super Freak."
Charity is near and dear to Cyrus' heart. Her Happy Hippie Foundation uses everything from support groups to star-studded cover songs to raise awareness of and help youth dealing with identity struggles and homelessness. 
It makes sense she'd show up at a charitable event feting fellow weird spirit Franco. Their connection is as delightfully bizarre as they are: Cyrus used to post altered, colorful photos of the actor on her Instagram account for seemingly no distinct reason.
So in many ways, Cyrus performing at Franco's mock bar mitzvah in a leotard and cape is par for the course. Watch the performances of "We Can't Stop" and "Super Freak" below.