Presidential Poll Results 2015: Hillary Clinton and Bernie Sanders Lead, Joe Biden Slips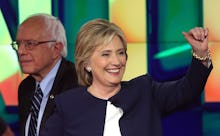 The results are in following the first Democratic debate hosted by CNN and Facebook last week in Las Vegas. Although a majority of audiences felt former Secretary of State Hillary Clinton was the winner of the night, her campaign was unable to gain a major increase in support, according to a new CNN/ORC poll, released Monday.
Clinton and Vermont Sen. Bernie Sanders maintain their leads against the other Democratic presidential hopefuls, with 45% and 29% of the party's support among registered voters, respectively. The third leading candidate is one who didn't even attend the debate Tuesday night, and may not even be running for office. 
Vice President Joe Biden, who said he was watching the Democratic debate from Washington, D.C., according to The Hill, is maintaining a lead against the three other candidates who debated Clinton and Sanders in Las Vegas — former Maryland Gov. Martin O'Malley, former Virginia Sen. Jim Webb and former Rhode Island Gov. Lincoln Chafee. Biden stands at 18% support if he chooses to throw his name in the ring for the presidency, while Webb is the fourth leading candidate at 1% (O'Malley and Chafee both hold less than 1% support among likely voters). 
However, support for Biden has slipped since his absence from the first Democratic debate by four points since September (the vice president held 22% in the Sept. 21 poll).
Clinton has found difficulty in growing her support base, with a mere 3% increase in support since a CNN/ORC poll Sept. 21. The former Secretary of State held 42% of the party's support in late September, while Sanders held 24%, rising 5% following Tuesday night's debate. 
As candidates take to the campaign trail, voters will continue to watch the debates closely to see what issues the presidential hopefuls choose to take on. The next Democratic debate is Nov. 14 at Drake University in Des Moines, Iowa.