President Obama and the First Lady Sing Happy Birthday to Usher at White House Gathering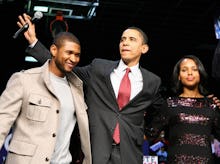 During the weekend, American R&B superstar Usher had a memorable birthday moment when President Barack Obama and First Lady Michelle Obama broke into song to celebrate the occasion. The musician, who turned 37 on Oct. 14, was at the White House to film an installment of PBS' In Performance at the White House, a series of shows designed to celebrate American creativity.
The musician later posted the video to Facebook, where the post wracked up more than 7 million views. "So this really happened the other night," a bewildered Usher, born Terry Raymond IV, wrote of the post. "The President and First Lady sang me Happy Birthday at the White House & I got to perform for them," he added. "I couldn't be more grateful for the moment and all of the birthday wishes from everyone."
The In Performance at the White House broadcast series celebrates 50 decades of creativity. On Sept. 29, 1965 President Lyndon B Johnson signed into effect a law, the National Foundation on the Arts and the Humanities Act, which established both the National Endowment for the Humanities and the National Endowment for the Arts. The endowments responded to Americans calling on the government to invest more in culture. 
The upcoming installment of the series will air on Friday Jan. 8 at 9 p.m. ET. In addition to Usher, the program will host performances from Buddy Guy, Queen Latifah, MC Lyte, Audra McDonald, Keb' Mo', Smokey Robinson, Trombone Shorty, Esperanza Spalding, Brian Stokes Mitchell and James Taylor.
As icing on the cake, at the end of the clip Obama adds, "that's a good cupcake, too."