McDonald's Has Introduced a Gray Bun in China and It's Getting Great Reviews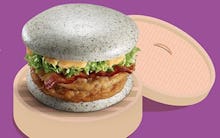 While gray could arguably be the most off-putting food color, McDonald's introduced gray burger buns in China and some customers are, ba da ba ba ba, lovin' it.
The "Modern China Burger," as Mickey D's dubbed it, is available through Nov. 3, Time reports, and includes a double pork burger, a couple slabs of bacon, mysterious yellow sichuan dressing and lettuce sandwiched between what looks like two flattened, speckled rocks. 
Though it may resemble "China's clouds of pollution," as Time Out Beijing editor Lee Williamson wrote, the secret ingredient turning the bun grey is actually black sesame. Some reviews on Chinese blogging app Weibo are surprisingly positive. 
One customer says they haven't eaten McDonald's for years but the bun is "quite delicious," according to Google Translate:
Another customer says the bun is soft and the cheese and chili sauce were the "perfect fusion":
One customer was into the bread's sweetness, according to Google Translate:
This isn't the first time a fast-food chain has offered burger buns in seemingly unappetizing colors. In September, Burger King unveiled a Halloween-themed Whopper featuring black burger buns in the United States, Time reports. The spooky bun was previously only available in Japan and marketed as the "Samurai burger."