El Chapo Was Injured and Nearly Caught. Here's the Latest Update on His Escape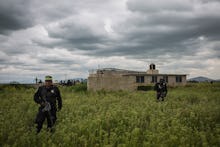 Mexican drug kingpin Joaquin Guzman, aka "El Chapo," was injured over the weekend as police closed in on the fugitive in northeast Mexico, CNN reports. The notorious drug lord has been on the run since July, when he broke free from a Mexican maximum security prison located in Almoloya de Juárez. Guzman is charged with large-scale drug trafficking offenses dating back to the 1990s.  
According to a Friday statement from Mexican officials, Guzman sustained injuries to his face and leg, though precise details about where and how he was injured remain unclear. 
"It is important to note that these injuries were not the result of a direct confrontation" with authorities, the statement reads, according to CNN. 
On July 11, the cartel boss escaped Altiplano Federal Prison through a mile-long tunnel. The escape route, which Guzman accessed through a hole in the floor of a shower, was reinforced by wood and equipped with lighting and ventilation systems. Authorities believe he rode a motorcycle on a makeshift track through the tunnel to expedite his escape. As many as 35 people have been accused of and arrested for aiding in Guzman's jailbreak, CNN reports. 
On Wednesday, it came to light that the Mexican government may have censored portions of Guzman's escape, which was caught on surveillance footage. The first version of the jailbreak footage was edited down and excluded audio. In the original version, which was leaked to television station Televisa, prison guards appear to ignore an audible banging sound in Guzman's cell that could have indicated something suspicious. The lag in their response allowed him to make his escape. 
Mexican authorities are offering a $3.8 million reward for information leading to the drug lord's arrest, the Washington Times reports. As Guzman's drug trafficking ring concerns the hemisphere at large, the American government is offering a reward of up to $5 million for intel on the escapee. 
This is not El Chapo's first rodeo. In 2001, Guzman broke free from a Mexican prison and managed to evade arrest for 13 years. Police detained him in February. Guzman was found living in the city of Mazatlan on Mexico's Pacific coast.