This Bride's Family Turned Her Canceled Wedding Reception Into a Feast for the Homeless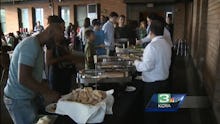 We all know from the first Sex and the City movie that having your partner cancel your wedding is a uniquely painful experience that can quickly lead to a melodramatic fit of self-pity and depression (particularly if you're vacationing with your girlfriends in Mexico). When Big pulled his infamous no-show, New York City's homeless population of nearly 60,000 people was probably the last thing on Carrie's mind.
But when a similarly heartbreaking fate befell Sacramento, California bride Quinn Duane this weekend, her family reacted with a selfless surprise: They decided to use the reception as an opportunity to give back to the community. Instead of letting all that gourmet gnocchi and salmon go to waste, they hosted an impromptu free dinner for the city's homeless population.
"When I found out on Monday that the wedding would not be taking place, it just seemed like, of course, this would be something that we would do to give back," Kari Duane, mother of the would-be bride, told local news station KCRA. So she got in touch with some local homeless shelters and quickly went into charity mode. 
According to reports, the gesture was very much appreciated. Duane told BuzzFeed that nearly 90 people showed up to enjoy the meal that would have otherwise been served to her daughter's guest list of 120 friends and family members.
"When you're going through a hard time and [it's] a struggle for you to get out to do something different and with your family, it was really a blessing," husband and father of five Rashad Abdullah told KCRA. He said their experience at the dinner was "a stark contrast to their usual struggle just to eat three meals a day," KCRA reports.
Duane's daughter, Quinn, chose to stay home with friends in an effort to heal. For that reason, her mother told the station that it was a bittersweet experience. "I feel a lot of heartache and heartbreak for her," she told the station. "But I will take away something good from this, I will."
h/t BuzzFeed