This Young Woman With a Rare Skin Disease Plans on Being an International Rugby Referee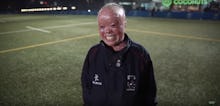 By any measure, 22-year-old Mui Thomas has had her fair share of adversity. Born with the rare skin disorder harlequin ichthyosis, Thomas spent the first few years of her life an orphan and grew up an outcast, ridiculed by society in her native Hong Kong. 
Her genetic disorder makes her skin grow extra thick and hard, often resulting in painful, infected cracks and cuts, with a scaly surface. For some, the hardened skin restricts their movement so much, it can lead to respiratory failure.
Instead of being worn down by her experience, Thomas has been strengthened by it. Now she plans on devoting her life to empowering those with differences. One of the ways she's doing this is through inspiring others by pursuing her dream of becoming an international rugby referee. 
She is currently a member of the Hong Kong Rugby Union, from which she also received an award this year after being described as "inspirational in overcoming life's challenges and adversities," Coconuts reports.
"I want to be a rugby ref because I think that people with visible differences and special needs... I think some of them, they just feel afraid of getting out there and showing the world what they can offer," Thomas says in a mini-documentary made by Coconuts TV.
"The message that I would like to send out to people is don't let anything stop you," she adds. "Don't let your disabilities stop you, don't let visual appearance stop you. At the end of the day, you're there to have a good time."
By virtue of being a female referee, Thomas is already in the minority, though this doesn't function as much of a deterrent. "Women have come and done this before — way before me — and they've made it to the top," she says in the video of her rugby refereeing.
"In terms of training and running, there isn't really a difference; I think it's all down to the fitness levels," Thomas continues. "I mean, as you saw tonight, you know, there really was not very much difference between the males and females. You know, in training ... there were no allowances."
Her parents, Tina and Roger Thomas, German and British expats respectively, had no intention of adopting initially, and were volunteering at Hong Kong's Duchess of Kent Children's Hospital when they met Mui as a newborn. 
Shortly after establishing a connection with the baby, the hospital planned on moving her to a mental institution. "She was effectively being hidden away from the rest of society in a home for the mentally handicapped," her father told Coconuts. "She has no mental handicap. Now, we had to make the decision." It was then the Thomases decided to adopt her. 
Thomas' upbringing is what enabled her to persevere, she explains in her video. Her parents supported and encouraged her, never allowing her to feel less capable than she is. This sentiment was not an easy one to instill, given cyberbullying so extreme it almost drove her to suicide, and she attended a school which insisted she be restricted from certain areas to protect a student who claimed to be afraid of her. 
As a special needs teacher, Thomas is devoted to inspiring marginalized individuals on a daily basis. However, she still intends on ultimately becoming an international rugby referee. Currently, she works under-14 and some women's league games.
"I've always been given the mentality [to] just get out and do it," she shares in her documentary. "You know, it doesn't matter what anybody else thinks, just go out and do what you want to do."