This Is What YouTube Star Laci Green Wants College Students to Know About Sexual Consent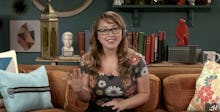 "Consent isn't just hot," YouTube star and sex educator Laci Green said in a 2014 video. "It's also mandatory." Over 2 million people watched that video, but Green isn't stopping there: She's taking this message offline and to her alma mater to teach others why only "yes" means yes.
"We're here to promote consent culture, which stands in contrast to rape culture, this idea that sexual violence is tolerated, it's considered normal, people see it as a part of life," Green told Mic. 
Promoting consent is not only crucial for individual students' sexual well-being, she said, but also has much deeper implications. It's a message at the heart of Trojan's new Ask for Consent campaign, which Green promoted at University of California, Berkeley, on Monday. The hope is the message will spread to campuses across the country. 
Making consent clear: Consent is pretty simple: Both partners must give an "affirmative" and "verbal yes" to have sex, Green said. Yet there is still plenty of confusion surrounding it. For example, there's still a widespread misconception that "if somebody doesn't say 'no,' and particularly if they're not screaming 'no' and thrashing, then that means you have consent," she said.
This murky understanding of consent likely influences the widespread reality of sexual assault on campuses across the country. A recent survey of more than 150,000 students at 27 universities in the United States revealed 23% of undergraduate women have experienced nonconsensual sexual contact, according to a report by the American Association of Universities. What's more, assaults are rarely random attacks — 90% of college rape victims know the person who sexually assaulted them, according to one National Institute of Justice study — and perpetrators are often serial offenders who commit 9 out of 10 campus sexual assaults, Al Jazeera America reported in 2013.
The conversation about consent, therefore, isn't just about "better communication" or helping people have "healthy sex lives," Green said, but is also "a sexual assault prevention measure."
The rise of "yes means yes": Some legislators agree with Green and have begun to codify consent into law. California became the first state to require affirmative consent language to be included in colleges' sexual assault policies in 2014 and recently required consent to be included in the state's high school sex education curriculum. New York Gov. Andrew Cuomo followed suit in July when he signed similar legislation for private colleges and universities, and Michigan legislators proposed a similar measure just last month. 
Some have opposed this legislation, and Green herself encountered skepticism about consent when she first began her sex education work. The idea "that you need to ask for consent every time was this sort of strange suggestion," among the individuals she worked with, she told Mic. But she said she feels a shift.
"I think students are really enthusiastic about this. They want to talk about it and they want this to be known among their peers as well," Green said. 
Other experts agree. Jaclyn Friedman, author of Yes Means Yes!, has worked with students who say "practicing 'yes means yes' has given them the best sex of their lives," she wrote in the Washington Post. She added that gaining consent helps them "realize that knowing what they want (and don't) from sex makes them stronger, and the most important sexual relationship they'll ever have is the one they have with themselves."
But even if students weren't fully on board, consent should still be legally required. "Marital rape used to be both popular and legal, and we didn't wait until everyone had stopped committing it to institute new laws," Friedman wrote in the Washington Post.
The ultimate goal is normalcy. In a perfect world, Green said, these laws would be unnecessary and notions of consent are seamlessly integrated into the way we are as sexual beings. Consent education should start in childhood and involve parents teaching their children that "we respect each other's bodies; we respect each other's boundaries," Green said. Health and sex education should be implemented as early as elementary school and be "comprehensive and medically accurate," and compounded with eradicating cultural norms that uphold "a lot of victim blaming, a lot of trivializing sexual assault and rape and a lot of tolerance of it at the personal and institutional level," she added.
While Green plans to continue her work in sex and consent education, the goal, she said, is for such efforts to become irrelevant.
"We want consent to be what's normal. We want consent to be what people see as a typical sexual interaction," she said. "Everything should be consensual ... that's what we're working toward."