Typhoon Koppu Photos: Storm Floods Parts of the Philippines, Heads for Taiwan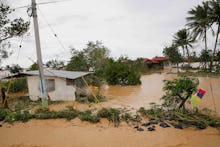 A super typhoon made landfall on Sunday in the Philippines' northeastern province of Aurora, causing widespread damage and killing at least 11 people, the Associated Press reports. Flooding from the storm, named Typhoon Koppu, has displaced more than 65,000 people and knocked out power in at least nine provinces. 
As of Monday morning, the typhoon had been downgraded to a tropical storm, but flash flooding had already caused rivers to overflow and mobilized hundreds of police officers and civilian volunteers to help residents in danger.
"There were people who got trapped by the flood on their roofs, some were rescued already," Henry Velarde, the vice mayor of the Philippine city Jaen, which is located in the province of Nueva Ecija, told the Associated Press. Of the 27 farming villages under his purview, Velarde said about 80% of those villages and more than 45,000 villagers were dealing with massive flooding. 
At its worst, Typoon Koppu delivered winds of 124 mph, according to the BBC, but the storm has since lessened in intensity and was inching northwest early Monday. Heavy rain is expected to continue through Tuesday in the cities of Baguio, Sagada, Candon, Vigan City and Laoag, and some weather-tracking models are predicting the storm could hit Taiwan as early as mid-week.
Photos from the region depict the fallout from Typhoon Koppu:
The Philippines typically weathers 20 typhoons per year on average, according the Guardian. In 2013, Super Typhoon Haiyan, the last massive storm to hit the Philippines, caused more than 6,300 fatalities.