These Are the Iconic Outfits You Probably Didn't Realize Were Designed by People of Color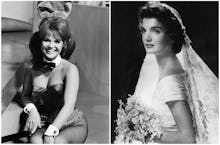 It's no secret that fashion has a race problem: From models on runways to the designers themselves, people of color are hard to come by, even in 2015. 
Given how few and far between black designers still are at the likes of New York Fashion Week, just think of how hard it was 30 years ago, 50 years ago or even more than 100 years ago for a black designer to make it.
And yet several did — and they made clothes you probably recognize but might not have realized were the brilliant brains and hands behind them. Here are just a sliver of the important fashion history achievements often hidden behind the outfits.
The original Playboy bunny suit
Chief among these iconic outfits is the memorable, playful Playboy bunny suit. Designed by African-American designer Zelda Wynn Valdes, the curvaceous satin suit made its debut in 1960 at the opening of Hugh Hefner's first-ever Playboy Club in Chicago (three years before Gloria Steinem slipped one on herself). 
Starting with just a vague idea from Playboy's then-director of communication, Valdes fully designed the uniform, which originally came without the trademark collar, cuffs and bow tie. At the time, Valdes, who died in 2001, was already a powerful and in-demand costume designer with her own New York City shop that attracted the Broadway and Hollywood circuit, which lead her to create gowns for the likes of Dorothy Dandridge, Mae West and Ella Fitzgerald. 
Jacqueline Kennedy's wedding dress
Ann Lowe isn't an immediately recognizable name today but she certainly should be. Lowe, unbeknownst to many, designed then-Jacqueline Bouvier's dress for her 1953 wedding to John F. Kennedy. The dress itself was constructed from 50 yards of ivory silk taffeta and cost the Bouviers $500, which is about $4,000 today.
As you can imagine, Lowe's gig was kept hush-hush, with Bouvier herself being rather dismissive about the whole thing. According to the book Jack and Jackie: Portrait of an American Marriage, when asked who designed her dress, Bouvier responded flatly, "a colored woman dressmaker." Only when the Washington Post reported on the nuptials did Lowe get her credit with fashion editor Nine Hyde writing, "The dress was designed by a Negro, Ann Lowe."
After the wedding, Lowe, who had built a decent career for herself before the headline-making nuptials, continued to make a pretty penny designing clothes for high society members like the Rockefellers, Vanderbilts and Duponts. She also opened her own store in New York City's Madison Avenue Saks Fifth Avenue. 
All the hats from Gone with the Wind 
Gone with the Wind is one of those luxurious films that transports its viewers back to yesteryear (a problematically racist yesteryear). The costumes, in this case, had to be perfect, beautiful and elaborate. To fulfill this need, Mildred Blount stepped in. 
Blount, a milliner, designed and created all those lush, elaborate, feather-laden toppers seen throughout the 1939 epic. Blount started off as an errand girl at a hat shop in New York City and later teamed up with her sister, a dressmaker, to open their very own shop. Word spread and Hollywood came calling in 1939 with an offer to design a slew of hats for a Hollywood epic starring Vivien Leigh and Clark Gable. 
After the film, one of Blount's hats graced a 1942 cover of Ladies Home Journal while she continued to design for starlets like Rosalind Russell and Joan Crawford. Later, she'd open another one of her own shops in Beverly Hills before fading into "relative obscurity." 
Mary Todd Lincoln's dresses
While we don't have enough photos of the former first lady to know her most iconic look, we do know that Mary Todd Lincoln's personal dressmaker, Elizabeth Keckley, was actually a freed slave. 
Born into slavery in 1818, according to Smithsonian magazine, Keckley rounded up "a network of supporters and valuable dressmaking skills" and purchased her freedom from her owners, to the tune of $1,200. She made her way to Washington, D.C., in 1860, where she established a dressmaking business and met the first lady just after President Lincoln's first inauguration in 1861. From then on, Keckley dressed the notoriously difficult Lincoln and the two became close: As Jennifer Chiaverini, author of the novel Mrs. Lincoln's Dressmaker, told the New York Times, "Elizabeth had spent 38 years as a slave, and she had, just for her own survival, learned how to deal with difficult white women, to put it bluntly."
All right, then. 
In any case, through the partnership, Keckley landed the opportunity to dress the Washington elite and build an empire unto herself. As Smithsonian notes, "A dressmaker was the highest-paying opportunity women had during that time period."
Farrah Fawcett's gold Oscars dress
You might not have been alive for this but you (should) know the image: 1978. The Academy Awards. Farrah Fawcett. 
Designer Stephen Burrows, who has now come to dress first lady Michelle Obama, Diana Ross and Bette Middler, is the man behind Fawcett's practically liquid-gold dress that was the epitome of disco chic.
The slinky number came during a time in Fawcett's career when she was skyrocketing, just two years after that legendary red swimsuit pin-up poster and signing on to do the television series Charlie's Angels, which lasted through 1981. The dress only helped heighten her public persona as a sex symbol, a well-dressed one at that.
If you're thinking about how slim and sad this list is, you're absolutely correct. There should be far more iconic fashion moments with designers of color at the helm. With the industry slowly, surely becoming more inclusive, we know there will be.