Amy Schumer Has an Important Message for Men Who Don't Give Their Girlfriends Orgasms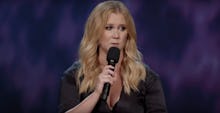 It's no secret that standup comic Amy Schumer is an orgasm activist of the first degree. She's gone on record a number of times speaking out about the importance of women demanding orgasms in bed, even if they're insecure about talking about their own pleasure or even if they (horror of horrors) take a wee bit long to climax. (Come on, dude: To quote the sagacious Miranda from Sex and the City, it's the clitoris, not the Sphinx.) 
But in her wildly funny HBO special Amy Schumer: Live at the Apollo, which premiered on Oct. 17, Schumer took her orgasm evangelism one further by preaching directly to the guys in the audience who (mistakenly) think women don't care about whether they have orgasms during sex. 
Because newsflash: Women do. A lot. 
Schumer concluded with one final message to the men in the audience: "Make your girl cum, guys." 
The comedian also railed against the insidious (and frequently debunked) stereotype that women just aren't into having sex, while men are relentless horndogs constantly on the lookout for V. If you're a woman who loves sex, Schumer said, you're "made to feel really weird and disgusting":
Telling the sex truths no one else will: For speaking out on these NSFW topics and many, many others (in one particularly memorable bit, she imagines first lady Michelle Obama dealing with post-sex spillage), Schumer is often labeled a "sex comic," a designation she rejects. 
"I think it's just 'cause I'm a girl," she lamented during her set. "I feel like a guy could get up here and literally pull his dick out, and everyone would be like, 'He's a thinker.'" 
But the label is not too far off, in terms of Schumer's focus. She has become something of a professional advocate for women pursuing sexual pleasure, telling Glamour back in August that women should demand that their partners give them orgasms. 
"Do what you feel you want to do while also considering how you'll feel the next day," she told the magazine. "Don't not have an orgasm. Make sure he knows that you're entitled to an orgasm ... I like to say it. I'll be like, 'Hey, there are two people here.' I'll be like, 'Oh my God, have you met my clit?' Don't be self-conscious."
Schumer may think that the only reason why she's frequently referred to as a sex comic is because our culture hasn't yet come to terms with the idea of a woman speaking openly (and hilariously, and grossly) about her sexuality — and to a degree, she might be right. 
But it's also kinda the point of her act, and why her frank, bawdy humor has resonated with so many women. In a culture that values male privilege over female sexual fulfillment, where heterosexual women only have about one orgasm for every three a man does, having a female comedian make sex her focus and embrace a role as a tireless campaigner for gender equality in the bedroom isn't just important. It's also necessary.