How Old Is Beyoncé? Mathew Knowles, Beyoncé's Father, Says Singer Is Lying About Age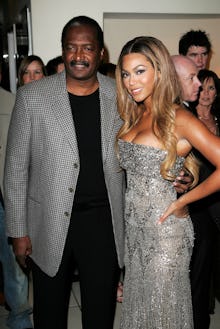 Mathew Knowles, father and former manager to R&B singer Beyoncé, said his daughter has been lying about her age since she was the lead vocalist in Destiny's Child, according to an interview with The Breakfast Club Friday. The talent manager said the "Drunk in Love" singer and songwriter is actually 36, not 34.
"Pink, she's the exact same age as Beyoncé," Knowles told The Breakfast Club. Pink is 36 years old. 
The radio show posted the full interview with Knowles to YouTube on Friday. The 63-year-old Knowles, who will lead a "Beyoncé Bootcamp" on Saturday in Houston, Texas, for aspiring entertainers, begins discussing his daughter's age at the four-minute mark.
Rumors surrounding Beyoncé's age have been going viral for years. Reports have claimed the singer is as many as seven years older than the age she says she is. Other reports say even her husband Jay Z is lying about his age and is actually 51, not 45.
This isn't the first time Knowles has veered from the script and shone a negative spotlight on his family. Knowles has repeatedly said Beyoncé and Jay Z use divorce rumors to boost ticket sales for their tours. 
In the Breakfast Club interview, Knowles goes on to say the infamous moment when Beyoncé's sister Solange Knowles and Jay Z had a physical altercation in the elevator of an after-party were "Jedi mind tricks," and that most of what people read or see in celebrity media is actually fake. 
Knowles' claims about his daughter's supposed age remain unconfirmed.