Gwen Stefani "Used to Love You" Is About Gavin Rossdale: Here Are the Lyrics and Streaming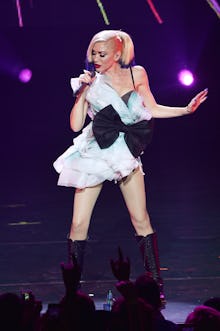 In a Monday radio interview via Mornings with Carson Daly, American pop-rock superstar Gwen Stefani opened up about the unraveling of her marriage to musician and actor Gavin Rossdale, her husband of 13 years, and how it has impacted her music career. 
"I don't have anything to hide," Stefani said in the interview. "Everybody knows that I was married forever and now I'm not. And so, could you imagine what my life is like right now? It's crazy! I ended up going into the studio and on the way to the studio that first time, I didn't want to go. I wanted to be in my bed, crying."
On stage at the Hammerstein Ballroom in New York on Oct. 19,  shared what the musician identified as her next single, and a track she considers to be "really special," per US Weekly. Audience members in attendance were first to preview the song, "Used to Love You," which was reportedly inspired by Stefani's August split from Rossdale. 
Saturday's event was part of the MasterCard Priceless Surprises series, a collection of shows the credit card company hosts exclusively for its cardholders. After the main set and before the encore in which the track was revealed, the former No Doubt vocalist took to Twitter to prep fans with a warning Tweet:
Lyrics: Judging by the musician's word choice on her latest track, the American artist is still reeling from her divorce. Stefani and Rossdale are parents to three children — Kingston, 9, Zuma, 6, and 19-month-old Apollo. "While the two of us have come to the mutual decision that we will no longer be partners in marriage, we remain partners in parenthood and are committed to jointly raising our three sons in a happy and healthy environment," the pair of musicians told Us Weekly when they separated in August.
"Never thought this would happen," Stefani sings on the new single. "I let it sink in, you're gone/ I don't know, know what I'm feeling/ I must be dreaming, you're gone."
"I used to love you" she repeats time and again in the track's post-chorus.
Despite the heavy tone of her latest track, Stefani is staying positive. At a press conference for the event on Saturday, the musician told Entertainment Tonight that she's "so happy," and that her mood has a lot to do with her music. 
Saturday's concert was Stefani's first MasterCard Priceless Surprise concert since February, and speaking to Entertainment Tonight, the musician said she's made major tweaks to her set in order to reflect the changes in her personal life. "Not that much time's gone by but so much has happened so I had to change it," Stefani said of her concert's structure. "I had to get all new consumes, new band [and] dancers. Everything just had to evolve the way I have."
For the time being, the song isn't streaming online, but it's making its way to the public through other mediums. On Monday, Stefani took to Twitter to share the moment "I Used to Love You" made its radio debut.