Bernie Sanders to Give Speech to Explain What "Democratic Socialist" Is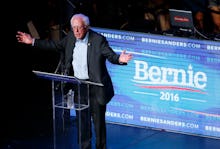 At a campaign event in Iowa on Sunday, presidential contender Vermont Sen. Bernie Sanders announced he's planning a speech on his economic policy, "democratic socialism," which has increasingly garnered scrutiny from Sanders' Republican opponents but also his own party members. 
After an audience member at the event questioned how the self-declared democratic socialist will defend his policy in the election, Sanders agreed that it's time he starts doing so. "I think you're right," he told her, the New York Times reports. "I think we have some explaining and work to do." However, Sanders did not specify when a speech on democratic socialism would take place. 
Sanders said the foundation of his policy rests in a society in which the government doesn't prioritize the wealthy. "To me, democratic socialism means democracy: It means creating a government that represents all of us, not just the wealthiest people in this country," Sanders said at the event, according to the New York Times. 
"When you go to your public library, when you call your fire department or the police department, what do you think you're calling?" he continued, the New York Times reports. "These are socialist institutions." 
According to the Democratic Socialists of America, the policy argues the government should restrict the private sector from regulating their industries without any supervision by the public sector.
Sanders' liberal policy has left some Democrats skeptical of his electability and earned him fiery criticism from Republican candidates. "The fact that he's been on that ticket raises some questions in other parts of the country: 'Can anyone who has ever had that [socialist] label as an official candidate, as distinguished from an Independent, [win]?'" Rep. Lloyd Doggett (D-Texas) told to The Hill in September.
One of the loudest critics of Sanders' politics has been Republican presidential hopeful and front-runner Donald Trump. "This socialist-slash-communist, OK, nobody wants to say it," Trump said of Sanders at a campaign event in Richmond, Virginia, after the first Democratic debate, calling him a "maniac."
Recent polling shows Sanders trailing Democratic front-runner and former Secretary of State Hillary Clinton by 16 points — 29% to 45%, respectively.