Pumpkin Spice Hair Is Here, Because Truly Anything Can Be a Hair Trend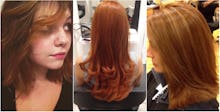 It was probably inevitable.
As the year of endless hair color trends marches on, October has brought us pumpkin spice hair. As Cosmopolitan.com reported recently, women are striding into their salons (clutching coffee cups, no doubt) and requesting a unique shade of red that channels a famous Starbucks beverage. 
"We're seeing that pumpkin spice hair has more copper undertones whereas gingersnap tends to fall under the category of brunette with red undertones," Laura Estroff, colorist at Brooklyn, New York-based Kennaland Salon, told Cosmopolitan.com.
StyleCaster dug up more photos showing the trend in the chairs of several other salons, with clients tagged #PumpkinSpiceHair. 
But as some might point out, #PumpkinSpiceHair color looks curiously like... red.
"Trend" is a pretty loose word, especially when it comes to hair color. There are a few consistently beloved, constantly revisited hair color styles that rise to the level of "trend" — bleached blond, for example, or the pink ombre tips that were popping up three years ago on the likes of Lauren Conrad and Demi Lovato.
But there are endless hair shades and therefore endless combinations to be had — endless placement of highlights and lowlights, of blending or streaks. At a certain point, not every iteration is a "trend" so much as another blend of colors. Often, those "new" blends look pretty similar. 
What's changed recently is an enthusiasm for naming these hair colors combos, from #opalhair to #unicornhair to #grannyhair, #oilslickhair, #colombre and #galaxyhair. That's in large part thanks to the rise of Instagram-famous hairstylists like Aura Friedman who share their own creations with their followers, often with a slew of hashtags. 
But the naming phenomenon is essentially wordplay on what are just endless color combos. Having a easy catchphrase can be helpful as a starting point when sitting down in your hairstylist's chair. But let's be real: Tortoiseshell hair is a fun way to say rich, light brown. Another fun name we might use for #PumpkinSpiceHair? Yeah, red. You could also call it #RedPepperHair, or #CherryLifeSaverHair, or name it after a latte. 
Giving something a hashtag doesn't exactly a "trend" make. Although we'll be the first to admit it: That "pumpkin hair" color is real pretty.