Watch Eddie Murphy Do an Impersonation of Bill Cosby While Accepting the Mark Twain Prize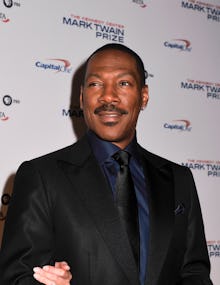 Eddie Murphy hasn't performed a stand-up set in 28 years. When he finally broke his streak while accepting the Mark Twain Prize for American humor, he made sure it was a memorable one.
In his Sunday acceptance set, the actor and comedian performed his famous Bill Cosby impression, this time in blistering fashion. Noting that Cosby has one of the Mark Twain Prizes, Murphy asked if they had revoked the former legend's award yet.
"Did y'all make Bill give his back?" he said at the award ceremony. "I know there was a big outcry from people, trying to get Bill to give his trophies back. You know you fucked up when they want you to give your trophies back."
Then, for the first time in three decades, Murphy launched into the impression. "He should do one show where he comes out and just talks crazy," he said, transitioning to Cosby's voice. "'I would like to talk to some of the people who feel that I should give back my motherfucking trophies.'"
The most striking section, as reported by the Washington Post, was when Murphy directly referenced comedian Hannibal Buress' reawakening of scores of allegations of Cosby's sexual assault. Though the allegations stretch back years, Buress calling Cosby a rapist last November triggered new attention — and influenced new accusers to come forward.
"You may have heard recently that I allegedly put the pill in the people's stomach," Murphy reportedly said as Cosby. "If I ever see or meet this Hannibal Buress in person, I am going to try and kill this man!"
Back in February, Murphy was reportedly asked to appear in a Celebrity Jeopardy! sketch lampooning Cosby during the 40th anniversary special of Saturday Night Live. At the time, Murphy declined, saying it was too serious to joke about.
"There's nothing funny about it. If you get up there and you crack jokes about him, you're just hurting people," Murphy explained to the Washington Post. "You're hurting him. You're hurting his accusers." Instead, Murphy just appeared briefly on SNL's main stage during the special.
Murphy changed his mind now, according to fellow comedian Arsenio Hall, because he wanted to prompt Cosby to finally say something on the subject. "'He's gonna get sick of people hating, and eventually he's gonna have to say something,'" Hall recalled to the Washington Post. "And we were like, 'That is funny, man. Are you willing?'"
Indeed, Murphy was willing. Watch the Associated Press' video of part of the impression below — the section on Cosby starts around 2:26.