New York's First Snow Photos in 2015 Signal Winter's Arrival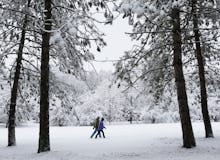 Winter isn't coming, it has arrived. On Sunday, snowfall blanketed communities in upstate New York's Oswego County, signaling the first, true snow of the season. 
The towns of Mexico and Parish each saw as much as nine inches of snow over the weekend, while icy conditions caused at least 50 automobile accidents and a 12-mile closure of Interstate 81, ABC7 reports. 
The mid-October snowfall is not highly atypical for the region. Syracuse's earliest-ever snowfall occurred on Oct. 1, 1946, according to New York Magazine, and communities in the surrounding area typically expect snow as early as Nov. 4. Whether Sunday's storm was abnormal or not, residents in Mexico and Parish took to Instagram, Facebook and Twitter in droves to share video footage and photo evidence of winter's opening act. 
The East Coast freeze was a result of lake-effect snow, a phenomenon that occurs when sustained, cold winds travel over long stretches of warmer lake water — Lake Ontario, in the case of Sunday's storm. As warm water vapor from the lake rises to meet gusts of cold air, the incongruent atmospheric conditions cause it to freeze.