Facebook Will Now Tell You When the Government Hacks Your Account — Here's Why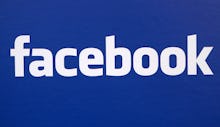 Facebook announced Friday that it will notify users when a government is trying to hack their account, offering an option to up security settings if a state-sponsored intrusion is suspected — but the social giant won't reveal how it knows.
The announcement, posted to Facebook Notes by chief security officer Alex Stamos, detailed that under "strong suspicion" that the government is attempting to hack a specific account, Facebook will send the user a warning that prompts them to upgrade to a two-step login process, in which the user must enter a security code sent to their phone before logging in. 
The notification will appear like this on desktop:
In order to "protect the integrity" of their strategy, according to the announcement, Facebook won't disclose how it can distinct state-associated hacks from ordinary attacks.
Stamos used the opportunity to affirm Facebook's commitment to account security, which he said is why the network continues to "constantly monitor for potentially malicious activity and offer many options to proactively secure your account," including this latest feature.
This comes after a lobbyist group that represents Facebook and other tech giants spoke out against the recent Cybersecurity Information Sharing Act, which it claims creates subtle loopholes for companies sharing users' data.
"CISA's prescribed mechanism for sharing of cyber threat information does not sufficiently protect users' privacy or appropriately limit the permissible uses of information shared with the government," Washington-based advocacy group the Computer and Communications Industry Association said in a statement Thursday. "In addition, the bill authorizes entities to employ network defense measures that might cause collateral harm to the systems of innocent third parties. ... Current legal authorities permit companies to share cyber threat indicators with the government where necessary to protect their rights and the rights of their users, and should not be discounted as useful existing mechanisms."