How Scarlett Johansson Reinvented Herself From Bland Leading Lady to Great Actress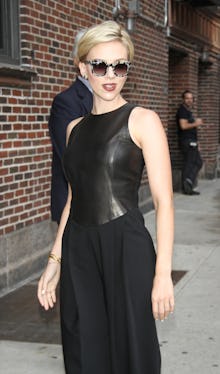 When watching the trailer for Joel and Ethan Coen's upcoming film Hail, Caesar!, one performer in particular stands out. It's not Josh Brolin, though he gives bluster a stylish new vibe. It's not Channing Tatum, gorgeous and fun but ultimately in a role that looks like a riff on Channing Tatum. It's not even Tilda Swinton, who looks kind of tame in comparison to her work in Snowpiercer and The Grand Budapest Hotel.
No, the standout of the Coens' 1950s showbiz screwball comedy seems to be none other than Scarlett Johansson, rocking a lush mid-Atlantic accent and carrying herself like a dame of the cinema. For those more used to the actress' nondescript leading lady roles of the mid-2000s in movies like The Nanny Diaries and The Other Boleyn Girl, the fullness of this characterization would come as a shock. 
But Johansson left that version of herself behind some time ago. Somewhere along the way, she became one of our finest working actresses. She dazzled in movies like Don Jon and Under the Skin. Even when just a voice, like in 2013's Her or the trailer for the new live-action The Jungle Book, she manages to fill every line with character.
What changed? When did Johansson go from leading lady of slight talent to character actress? We can pinpoint it to the day: Jan. 24, 2010. That was the day the 2010 revival of A View From the Bridge opened on Broadway. That was the moment Johansson stopped being pigeonholed as a sex symbol and was finally allowed to be an artist.
The play's the thing: When she stepped onto the Great White Way, Johansson's whole style changed. Her acting went from being merely being a cipher for directors like Woody Allen and Sofia Coppola to portraying fully realized characters. Her accent work developed quickly, and she started carrying herself differently.
It's not a coincidence that more formal theatrical training would better her abilities. Johansson was a child star, appearing in her first film at the age of 9. Her only experience on stage prior to A View From the Bridge was at 8 years old, in an off-Broadway show — a play called Sophistry costarring Ethan Hawke.
The reason for her screen focus, as she told CBS News back in 2012, was because of her voice. Her notably husky tone prevented her from earning parts as a kid, while film directors loved it. "Everybody thought it was so unique in film, and so that's why I started doing film," she said.
In 2012, Johansson returned to the stage again in Cat on a Hot Tin Roof. During that time, when she spoke to CBS, she described theater as both an "intense" and "liberating" experience. She had initially sworn against doing theater again, but spoke of the experience as a treasure. "I think it's kind of what I imagine it must be like to give childbirth, and you sort of forget all the pain," she told CBS. "You just remember this beautiful prize you hold."
A View From the Bridge was a limited engagement, running only 14 weeks, but its impact was tremendous. Johansson even won a Tony for the role, switching her from firmly known for being only sexy on screen to being a fully realized performer. Suddenly, she was getting the roles she wanted.
"Once I wanted to work again, I wanted to start playing adults — tough women who knew what it took to survive," she told the New York Times in 2012, emphasizing putting herself out of her comfort zone. "I'm finally at a place in my life where I feel comfortable not anticipating the result. I'm comfortable with being uncomfortable."
Tracking the change: To get the clearest comparison between pre-theater Johansson and post-theater Johansson, compare her work as Natasha "Black Widow" Romanoff. In Iron Man 2, her first movie in the Marvel Cinematic Universe, Johansson is fine at best. Natasha gets a couple of good action scenes, but her characterization leaves a lot to be desired.
In The Avengers, shot after Johansson had already won the Tony, Natasha is a fully realized woman. She banters with the boys while running circles around them tactically. Her past makes her human, while her present-day self is razor-sharp. Comparing the before and after is practically night and day.
Director Joss Whedon earned much of the praise of Black Widow's characterization in The Avengers, but subsequent films like Captain America: The Winter Soldier proved Johansson had much to do with it. Even in this year's Avengers: Age of Ultron, for which Whedon was criticized for derailing Black Widow's character, Johansson managed to maintain Natasha's complicated persona.
There's a lot of reasons to be excited about Johansson's career moving forward. Her role in Hail, Caesar! seems like a potential breakout moment. What we've heard of her voice work in The Jungle Book is thrilling and seductive, perfect for her serpentine character. If it's indeed great, it could recall the best parts of Johansson's work in Her, which got her Oscar buzz for a voice-only performance — a rarity in Hollywood.
For an actress two decades into her career to be thrilling audiences in a whole new way is an unexpected treasure. She's still able to be sexual without being typecast as only sexual. She's bringing fully realized work to the screen. The Johannaisance is firmly in high gear — it's time we celebrated her achievements.