Here's the Uncomfortable Truth About What Dating Is Like as a Biracial Person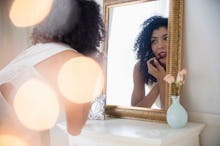 Nobody walks away from online dating without a negative story or two, whether it's having to fend off the guy who won't stop asking for nude pics or that couple that thinks just because you're bisexual, you're down for a threesome. 
But the world of online dating can be difficult in a very specific way for those who identify as multiracial. Not necessarily worse, but different. Complicated. A "mixed" bag as they say. (Sorry.) Thanks to a combination of unchecked biases and overt fetishizing, the dating world is a minefield for mixed race people.
As a biracial person and the creator of the #biraciallookslike hashtag, I've experienced this firsthand. Whether it's some drunk guy saying, "You're so hot, I don't care that you're Hispanic" (I'm not Hispanic), or someone finding out my dad is from India and then only wanting to talk about curry and Bollywood, my experiences as a multiracial woman have been marked by people just not knowing how to bring up race without being incredibly awkward. Many people who participated in #biraciallookslike brought up similar experiences.
For every person trying to decipher just what makes you look so "exotic," there's someone who acts like dating someone of mixed heritage will make them more interesting. But it doesn't. It just makes them, at best, racially insensitive, and at worst an asshole.
How OKCupid can be OKRacist: In the United States, interracial dating is becoming increasingly common and socially accepted. According to a 2012 study, nearly 9% of couples are of different races, nearly twice as many as there were in 2002. People are weird about race in the dating world, though, and despite wanting to come off as progressive and open-minded, many dating app users still have racial biases. 
In 2009, OKCupid data showed that women of all races overwhelmingly wanted to date people of their own race, while non-black men didn't want to date black women and non-Asian women weren't interested in dating Asian men. When OKCupid crunched the numbers again in 2014, not much had changed: Though more people said they were open to interracial dating, the numbers showed racial biases were still in play.
Some users are upfront about their racial preferences on their profiles. In a Medium piece on Grindr racism, writer Anthony Berteaux wrote that many Grindr profiles in his area featured derogatory terms about race — for instance, referring to men of Indian or East Asian descent as "curry" and "rice." 
That type of racial fetishization applied doubly to people who identified as multiracial. "Those of us who are ethnic minorities who identify as multiple races are marginalized by the race we physically look like," he wrote.
Then there are those dating site users who bring up race as a preference rather than a dealbreaker. According to mixed-race Grindr user Ben*, 23, when people say they're looking exclusively for, say, Asians or Latinos, it's often in a fetishizing way, as if the users are looking for a race and not a person. "I definitely see the 'No Asians' or 'No Latinos,' but also 'Into smooth Asians' or into 'sexy Latino men,'" he told Mic. "Those are never people that I message."
"So what are you, anyway?": While dating app users may appear to not be into interracial dating, it's a different story when someone appears ethnically ambiguous. A recent UMass study, for instance, found that online daters often prefer mixed-race over mono-racial individuals, with Asian and white men reporting that they preferred women of mixed Asian and white descent. 
Many users speak of their ambiguous ethnicity being used as a pick up line, either through direct questioning or comments like, "You look so exotic." "I don't typically get messages that come off as flirtatious or fetishizing me right off the bat, but some people will message me being like 'What's your mix?'" Ben told Mic.
It's a question many mixed race people are familiar with, a subtle code for "Why don't you look the way I think you should?" To avoid dealing with that, some mixed race people put their "mix" right in their profiles, in hopes of fending off those questions. And it works ... sometimes.
Alyssa*, 25, a woman of Japanese and white heritage, used OKCupid before she got into a long-term relationship. While on the website, she put her racial background on her profile. "It's integral to who I am so I almost never try to hide it," she told Mic. 
While that might have assuaged users' initial curiosity, people who messaged her kept harping on the subject. Alyssa got messages like "You're Japanese? I love sushi!" or messages that said it was strange that her dad is Asian and her mom is white "because it's usually switched." Instead of penalizing her for her mixed-race background, users fetishized it.
Vanessa*, 27, a woman of black and Asian heritage, also lists her racial background in her profile. Like Alyssa, she frequently receives messages pointing out how "exotic-looking" she is. But she also frequently interacts with white men who try to flatter her by saying they picked her profile specifically because they don't like to date white women.
"They seem to think it's a compliment or a reason why they picked my profile to interact with," Vanessa told Mic. "My typical response is to ask why, and then it's usually confirmed that they have a weird fetish, so I call them out and then block them."
These fascinations with "exotic" beauty are intended to be compliments or at least proof of interest. Instead, they usually end up making mixed race people feel they're nothing more than fodder for a genetic guessing game of "what are you?" and "where do you come from?".
"Calling [someone] exotic assumes she is essentially an other and somehow different, though the connotation is not particularly positive," clinical psychologist Goal Auzeen Saedi wrote for Psychology Today. "While many intend it as a compliment, when you really break it down, an exotic beauty is not the same as a true beauty. Therefore, it is ultimately a discriminatory sentiment." 
In short, people who message mixed-race people might think they're complimenting them on how "exotic" they look. What they're really saying, however, is crystal-clear: "You look different, so you're lucky I find you attractive."
IRL dating can be even worse: Perhaps unsurprisingly, the biracial people that spoke with Mic reported white people tended to be the most tone-deaf when it came to issues of race. "I never really chose people based on race, but white guys were the only ones I got weird racist stuff from, so I was often skeptical of them," Alyssa said. 
Yet even though they found it tiring to field endless questions about what "mix" they were, some multiracial people told Mic that they preferred online dating to dating IRL, as it gave them the ability to be upfront about their identity on their profile. Alyssa said that putting your racial background on your profile preempts the need to have an awkward conversation about it later on.  
"I got less weird stuff about my racial background online than I did [dating] in person," Alyssa said. "In person there's not a good way to say 'I'm biracial, don't be weird' before someone makes it a thing."
That said, the people who are going to make it a "thing" will likely do so, regardless of whether they're meeting you IRL or on an online dating website. As anyone who's ever received a dick pic knows, the distance an Internet connection provides gives people the freedom to be bolder — and in many cases, ruder — than they would be in real life.
"I've still been asked 'what are you/where are you REALLY from/do you date white guys' by men IRL, but it's usually not as in-your-face, I guess, as [on] OKCupid," Vanessa said. She added, "It's so hard to think of a time when someone has brought up my heritage respectfully. I don't think it's happened yet."
One question you should never, ever ask: Ultimately, there is no polite or respectful way to ask someone what their race is on a dating app or IRL. The best way to find out the answer to that question is to just wait for the person to bring it up themselves — which it inevitably will along with the other details that surface in the getting-to-know-you process, such as where you went to college or how many siblings you have. 
Questions like "where are you from?" and "what are you?" may seem harmless, but they send many mixed race people on edge. The implication is that you're other, that you somehow don't belong. You are "half & half" instead of any whole, not "really" one or the other. You are a curiosity instead of a possible date.
The Internet has a tendency to amplify both our best and worst traits. Our racial biases fall in the latter category. It would be great if no one came into the dating world with racial biases, but when people are forced to make snap judgments from profile photos on apps like Tinder and Grindr, even those with the best intentions can say or do offensive things they might not necessarily mean, or categorize and fetishize people without realizing it. We make a lot of assumptions based on physical appearance, and a person's racial background is no exception.
So if you've just matched with a woman on Tinder and you think, "wow, you don't look Chinese" is an acceptable opener, think again. Don't bring it up. Look past the "exotic" picture and try to see whether they're a person you could enjoy spending time with. And if the answer is yes, for the love of God, don't ask "what" they are.