The Only Female Cab Driver in Palestine Wants to Take Over the Industry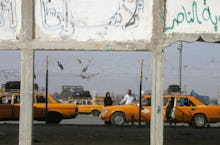 Like any typical Friday evening, Nadia Ahmad is cooking a large meal for her family in Hebron, Palestine, with her animated responses punctuated by the clatter of kitchen work. But unlike most women there, this is after a long week of working as a cab driver — and she's the only active female cab driver in her country.
"It was difficult," she told Mic through Khaled Saaleh, a family friend and translator. "You know people here in West Bank, in Hebron... some of them, they have very bad mind[s]."
Saaleh goes rogue, adding, "Her husband give her good push." 
Word of mouth spread about her unusual endeavor and after a journalist got wind of the story, he asked if he could interview her. When she invited him over for the interview, someone took a picture of the journalist entering the house and posted it on social media, slandering Ahmad for having a man in her home who was not her husband.
Public intervention: The image and her story brought wide attention, leading to a radio segment devoted to the controversial figure. "A famous radio station in Hebron [then] conducted [a] program about her," Sahar al-Kawasmeh, general director of the Roles for Social Change Association, a nongovernmental organization which has been helping Ahmad since she rose to infamy, told Mic. "They attacked her: 'What are you doing? You're a woman? Women will be like man.'"
Ahmad also faced another complication. Her brother tried to put a stop to her taxi driving almost immediately. "Her brother [was] sitting [with] all the drivers in Hebron; they are discuss about her and he did not know it was Nadia," al-Kawasmeh said. 
"[They said,] 'We will go with her, we will do what we want with her,'" al-Kawasmeh said. Her brother caught wind of this attention and immediately went to Ahmad's home to demand she stop driving her taxi. Her hiatus was brief; it was her husband who encouraged her to continue driving again after a few months. 
Getting around: Ahmad said having female taxi drivers is good both for the drivers and potential female passengers — encouraging women to be autonomous augments social mobility and offers a wide range of freedoms.
"Constrained (daily) mobility i.e. the element of physical access to different facilities bears upon the issue of women empowerment," the World Bank wrote in the report, "Gender and Mobility in the Developing World." "Rather than being a singular function of transport provision, the daily mobility of women in developing countries is guided by a set of complex hierarchies."
"Especially for the women, [female] drivers are good ... for women passengers: more relaxation for them," Saaleh translates for Ahmad.
Confronting fear: For this reason, Ahmad said she wants to start a fleet of cabs driven only by women. Similar initiatives have been implemented in places like Pakistan, with a women's only Pink Rickshaw service designed to encourage female empowerment. Ahmad knows of five other Palestinian women who have taxi licenses, but they don't have the social or financial resources to actually own and drive a cab. 
Furthermore, there are the social restrictions. "They are afraid, some of them," al-Kawasmeh said. "Nadia, she breaks her silence. She faced the community ... it's completely different."
ADWAR, another name for the Roles for Social Change Association, the NGO for which al-Kawasmeh works, is trying to help Ahmad raise money for her fleet. Al-Kawasmeh wrote in a follow-up email that she and her organization have four objectives for the project:
"1. Open opportunities for Palestinian women to work in nontraditional sector and reduce the poverty and employment.
Ahmad's daughter — who took after her mother and has a taxi license in Jordan — would return home to work for the all-female fleet if and when her mother is able to start it. For now, however, her daughter finds working there, with so many checkpoints and territorial restrictions, too difficult and not lucrative enough. 
Al-Kawasmeh explained the significance, in her eyes, of what Ahmad is trying to achieve and how seismic cultural shifts regarding gender roles are only possible with people like her.  "Nadia is a good [role] model for them [women], to encourage them," she reflected. "But she cannot fulfill her dream alone ... she has to have support."
h/t Al Jazeera