Daniel Murphy Is Mets' Hero, But Some People Haven't Forgotten His Gay 'Lifestyle' Comment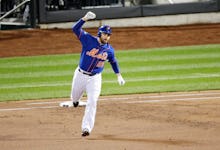 New York Mets infielder Daniel Murphy is practically carrying his team in the postseason as they push toward a World Series, hitting home runs in each of the past four games and posting a .929 slugging percentage, Forbes reports. The recent buzz surrounding the player's impressive stats has put Murphy in the spotlight, however not all the attention has been so flattering. 
Some social media users haven't forgotten Murphy's past comments about the gay "lifestyle" go unnoticed. In March, when the Major League Baseball inclusion ambassador and former player Billy Bean, who is openly gay, visited the Mets' spring training, Murphy told reporters that he didn't "agree" with Jean's sexuality. 
Some refuse to forget his outspoken position on homosexuality, calling him a bigot on Twitter despite his baseball chops.
"I do disagree with the fact that Billy is a homosexual," Murphy said to the reporters, according to the MLB's official site, citing his Christian faith as the reason. "That doesn't mean I can't still invest in him and get to know him," he said, adding that he and fellow Christians "love the people [homosexuals]" but "disagree [with] the lifestyle." 
Murphy made headlines for those comments back in March, but now he's making headlines for his impressive postseason stats. 
Homosexuality has often been a hot topic in sports as more athletes are coming out in recents years. David Denson, first baseman for the Milwaukee Brewers' minor league affiliate, became the first openly gay, active MLB player in August, CNN reports. An economist for the University of Michigan estimated after Denson's coming out that, based on government and Gallup polls, that theres are currently dozens of gay MLB players, Outsports reported.