Donald Glover's 'Atlanta' Pilot Picked Up By FX — Here's What We Know About the Series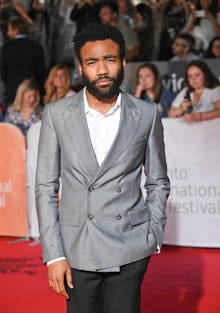 After stacking up his acting chops with roles in films like The Martian and Magic Mike XXL, Donald Glover, also known as rapper Childish Gambino and Emmy Award-winning writer for NBC's 30 Rock, is coming out with his own sitcom, Atlanta, on FX.
The network recently ordered 10 episodes of Glover's Atlanta after reviewing the half-hour comedy pilot, Deadline Hollywood reported. Glover reportedly executive produced the show along with Paul Simms, and will star in it as well. After shooting the pilot over the summer in none other than Glover's birth place of Atlanta, Georgia, Atlanta is slated to premiere sometime in 2016. An official premiere date hasn't been set.
Director Hiro Murai has worked with Glover before. The series' director, Hiro Murai, has directed music videos for Childish Gambino and has worked on cinematography for Comedy Central's Drunk History. Murai Instagrammed a schedule of one of the pilot's final prep days on Oct. 16, captioned "very stoked we get to make more."
Cast and plot: Atlanta's plot will center around loner Earnest "Earn" Marks (Glover) returning to his hometown in Atlanta, Time reports, after unsuccessfully pursuing a career in the music industry. Upon his return, his cousin Alfred Miles, played by Boardwalk Empire's Brian Tyree Henry, launches to fame as Atlanta's hottest rapper, giving Marks the opportunity to manage his cousin's rap career. The characters' key controversies will surround music, money and race, Time reported.
The pilot's cast will also feature Applesauce's Zazie Beets as Marks' child's mother, and Dope's Lakeith Lee Stanfield as Mile's music partner, Darius.
"Atlanta draws on Donald's considerable talents as a musician, actor and writer to give us something unique," Nick Grad, FX's president of original programming, said, according to Variety. "The story is made all the more powerful by the great cast and the contributions of Donald's fellow executive producer Paul Simms and director Hiro Murai."