Amazon Is Suing People Who Write Fake Reviews. Here's How They Are Cracking Down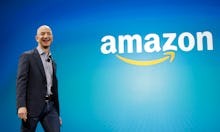 Amazon is firing back at spammers who are paid to write fake reviews on the site. In a lawsuit filed Friday in Washington state, the e-commerce company asked courts to punish 1,000 members of the online marketplace called Fiverr, a website that sells a range of services for only $5. Users on the site have been creating fake reviews for countless products featured on Amazon, Forbes reports.
"[They] provide these 'Verified Reviews' only if the reviewers obtain the product for free, in addition to receiving payment for the 'review,'" the company claims in its lawsuit, according to Forbes. "In at least one instance, the seller of a 'Verified Review' was willing to receive an empty envelope ... simply to create a shipping record to ... avoid detection by Amazon."
Writing false reviews on Amazon is still technically allowed on the site, according to Forbes, though the company has noted the false reviews pose a number of violations against state laws, including Washington's consumer protection laws. 
According to the lawsuit, Fiverr users charge $5 for customers who request five-star reviews for their product posts from "verified users," which are Amazon.com accounts that have undergone a verification process that includes receiving at least one order from the site. CNN Money reports the lawsuit targets 1,000 members of the Fiverr group for "misleading Amazon's customers" and named each of the reviewers "John Doe" as it wasn't immediately clear exactly who is behind each individual review. 
Fiverr users are just one group being paid to write the phony reviews across the website, and Amazon may not see the lawsuit all the way through, according to Forbes. The most recent suit follows an April complaint filed by the company, which claims buyamazonreviews.com was selling fake reviews for users looking to boost their credibility on the site.
"You want to get the companies to stop buying their reviews, the people to stop writing the fake reviews, and also what you really need to do is train your algorithms to identify the fake reviews. That's what the companies really need to work at," NewYorker.com editor Nick Thompson told CBS. "Hotel reviews that tend to have specific details like 'the bathroom is large' tend to be real because if they've got that sort of spacial information, it means that someone was actually there."