Lamar Odom Update: Reports Have Former NBA Player Participating in Physical Therapy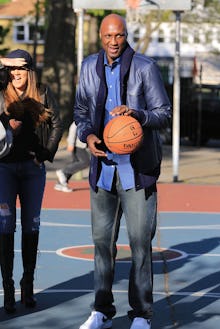 NBA and reality TV star Lamar Odom, who was hospitalized last week after being found unconscious in a Nevada brothel, has made significant strides toward recovery over the weekend. On Monday, sources familiar with Odom's condition told Los Angeles Daily News that the NBA player was expected to begin physical therapy. 
"It remains unclear how well he can navigate that challenge," Los Angeles Daily News reporter Mark Medina writes. Medina's sources claim Odom is sluggish and frequently fatigued. Yet, the Associated Press confirmed on Monday that Odom's condition was improving. "Each day Lamar is getting stronger and reaching significant milestones in his recovery," said Alvina Alston, a spokeswoman for JaNean Mercer, Odom's aunt. Alston added that Odom continues to overcome "insurmountable obstacles."
By Monday afternoon, multiple media outlets were reporting that Odom's condition was steadily improving. 
Late on Friday, Odom again made headlines when he regained consciousness and began breathing without ventilators at Sunrise Hospital and Medical Center in Las Vegas. After relaying a thumbs-up to his doctor by way of a status update, Odom asked to see his children, 17-year-old  Destiny and 13-year-old Lamar Jr., Entertainment Tonight reported. 
There may have been cocaine in the 35-year-old's system at the time he collapsed, CNN reports. Us Weekly claims Odom was taking herbal Viagra prior to falling ill. Since collapsing, Odom's family and estranged wife, reality TV star Khloe Kardashian, have repeatedly visited the basketball player in the hospital. According to Dennis Hof, owner of the Nevada brothel where Odom collapsed, the NBA player planned on a four-day stay at the love hotel and allegedly spent $75,000 on two escorts, the Associated Press reports.