'Gilmore Girls' Is Coming Back to Netflix — Here's What to Expect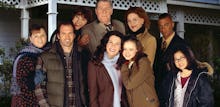 Get ready for a return to Stars Hollow: Gilmore Girls is coming back.
As reported by Gilmore Girls superfan and TVLine.com editor Michael Ausiello, Netflix has ordered four 90-minute episodes of the beloved WB series for a new limited season run. When the revival would drop and which cast members are returning has yet to be confirmed, though Ausiello says major players like mother and daughter Lorelai and Rory Gilmore (Lauren Graham and Alexis Bledel) are indeed coming back.
Rumors of a revival swirled ahead of the cast's reunion at this year's ATX Television Festival in Austin, Texas. At the time, creator Amy Sherman-Palladino shot down the idea for the moment. "It would have to be the right everything: right format, timing, budget," she said. "It would have to be honored in a certain way."
Clearly, everything at Netflix was indeed right. But what can fans expect of the new season? Is a revival even a good idea? The answers: A lot and of course, don't be silly, why would you even say such a thing?
Why it's needed: Gilmore Girls infamously departed from television screens on murky terms. The CW, then a newly formed network borne of the ashes of both UPN and the WB, aired a seventh season without Sherman-Palladino and her husband, Daniel Palladino, at the helm. The season was a fine effort, but couldn't quite capture the magic.
In six seasons, Sherman-Palladino created a world filled with wacky characters that, despite their predilection for fast talking and too many pop culture references, were very beloved. With other writers giving the titular Gilmore girls their voices, the magic was gone. The awe-inspiring setting of Stars Hollow felt, well, hollow.
A final, limited season gives the Palladinos the chance to end the story on their terms. The infamous final four words Sherman-Palladino had planned for the series, up until this point unheard, will likely finally see the light of day. This is a chance to give Gilmore Girls fans closure.
With other writers giving the titular Gilmore girls their voices, the magic was gone. The awe-inspiring setting of Stars Hollow felt, well, hollow.
What to expect: The cultural landscape is much changed since we last saw the Gilmores in 2007. At the time, Rory was heading to follow then-Sen. Barack Obama on the campaign trail, while the very idea of binge-watching a Netflix series was a figment of some genius' imagination. Seeing how the Palladinos recalibrate their fictional world for the real one will be fascinating. Will Gilmore Girls pick up in present day? Where will the cast be?
One major question-mark, and a very sad one: How will the show handle star Edward Herrmann's passing? At the reunion, there was a lot of love for the departed actor who played Gilmore patriarch Richard. When asked about what his wife Emily would be up to now, actress Kelly Bishop said with a dose of melancholy that she didn't know as Emily would be a widow.
Presumably, Richard's death could serve as a motivating factor for the season. Twice during the series, characters came together around Richard's heart attacks — in season one's "Forgiveness and Stuff" and season seven's "I'd Rather Be in Philadelphia." While the tone would be heavy, his death could be what brings the Gilmore clan together again. If that's the case, prepare for waterworks.
Other questions remain: Will Lorelai be married to star-crossed lover Luke Danes (Scott Patterson)? Will fan favorite Paris Gellar make an appearance despite actress Liza Weil's current role on How to Get Away With Murder? Which presidential candidate will Rory be following eight years later — Bernie Sanders, perhaps?
Why it matters: With each subsequent revival of a fan-favorite TV show comes the groans about recycling ideas. Yet in this case, a return to the Gilmore world isn't just a cash-grab for Netflix. It's something more.
The ATX Television Festival reunion was evidence of Gilmore Girls' power and impact. Fans who grew up with this show or even discovered it within the last year on Netflix see it as a bonding method. It's a warm, shared experience quite unlike anything else on TV right now. What's more, this isn't another 22-episode season driving advertising dollars for a network. This is a short, sweet goodbye.
Many details still remain to be confirmed, but a Gilmore Girls revival is cause for much celebration. Fans longing to return to Stars Hollow have finally been given the chance to come home.