Ahmed Mohamed and President Obama Just Met at the White House — Here's How It Went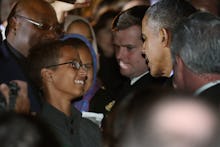 Ahmed Mohamed, the 14-year-old Muslim who became a household name after being arrested in his Texas school on Sept. 14 when his teachers said they feared his homemade clock was a fake bomb, has done well for himself. 
Mohamed met with President Barack Obama on Monday night at the White House's astronomy night, at which the teenager was an attendee. 
In September, social media revolted against what many described as a racially and religiously motivated arrest, propagating the #IStandWithAhmed campaign. In a sign of solidarity, Obama tweeted at the young engineer, inviting him to visit the White House. 
"I felt really happy that I got support from the president," Mohamed told the Dallas Morning News on Monday, in anticipation of his visit. "It's really amazing that he helped me." 
Mohamed also noted, despite the president's invitation to do so, he would not bring his clock as he was returning from Sudan, his parents' native country (where he'd met Omar al-Bashir, the Sudanese president, on Wednesday), and therefore didn't have time to return home to Texas to retrieve it. But White House press secretary Josh Earnest said he wasn't certain whether or not Mohamed had been advised to leave the clock at home.
Earnest also told the Dallas Morning News before the event that the president would likely not have time to meet with Mohamed one-on-one, making their later interaction an unexpected one.
"We need to inspire more young people to ask about the stars and begin that lifetime quest to become the next great scientist or inventor or engineer or astronaut," Obama said on the south lawn to an audience of students, astronauts and Bill Nye, "the Science Guy." USA Today posted a video of the speech. 
"We have to watch for and cultivate and encourage those glimmers of curiosity and possibility — not suppress them, not squelch them," the president said. "Because not only are the young people's futures at stake, but our own is at stake."
"That's one of the reasons my administration's worked so hard to encourage kids to enter STEM fields — especially young women, who are too often underrepresented in these fields," the president said to applause. "We are halfway to my goal of training 100,000 new STEM teachers by the end of the decade."
Naturally, Twitter did not miss an opportunity to chime in. Many people used social media to express their support for the young scientist and excitement at the White House's encouragement. 
News reached all corners of the globe; even the United States consulate in Karachi, Pakistan, advertised the event on its Twitter page:
Out of 64 countries, the U.S. ranked 35th for math and 27th for science in 2012, according to a Pew Research Center report published in February. High barriers to entry for women and ethnic minorities in STEM are also well documented. The president's response to Mohamed and his clock, in conjunction with the speech on Monday night, could not have sent a clearer message regarding his desire to amend this.