'Star Wars' Star Daisy Ridley Cried Watching 'The Force Awakens' Trailer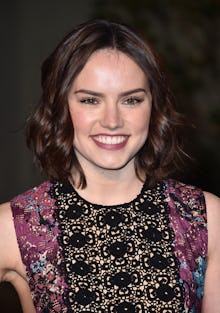 The highly anticipated Star Wars: The Force Awakens trailer, released Monday night, is emotional for many — especially the film's star, Daisy Ridley, who bawled while watching it.
Ridley plays the main character, Rey, who's featured most in the latest trailer, so her tears were happy tears.
Ridley set her her alarm for the trailer released late Monday night and went from zero to 100 real quick with the waterworks while watching. 
Ridley's friend recorded her hilariously heartfelt reaction, because what else are friends good for?
After the trailer almost broke the Internet, Ridley's tears did the same:
They're crying with her and for her:
Watch the trailer below: