#BoycottStarWarsVII Trolls Claim the Movie Is Anti-White, Promotes "White Genocide"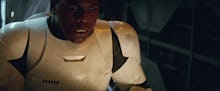 Fans have been gearing up for the premiere of Star Wars: The Force Awakens, set to hit theaters Dec. 18. Most have been roiling with excitement for the latest installment of the movie series — save for a small group of Twitter trolls who took to social media Sunday night to lambast the new film for promoting what they call "anti-white propaganda" and "white genocide." 
Using the hashtag #BoycottStarWarsVII, the trolls, linked to two fake profiles, focused mainly on the film's black, British lead actor, 23-year-old John Boyega, who plays Finn, the film's protagonist. As the San Francisco Chronicle reports, the trolls originally used inflammatory remarks to claim Boyega was hired to spread racial diversity in Hollywood rather than on his credibility and merit as an actor. The trolls also call out the film's director, J.J. Abrams, saying he hates white people.
Although the #BoycottStarWarsVII hashtag began trending worldwide on Monday afternoon, it was initially started a day earlier by just two accounts that repeatedly tweeted racist messages surrounding the film and its director, according to Vox. Most social media users tweeting the hashtag were people calling attention to the initial, racist tweets. 
The users, who have created fake profiles to promote the hashtag, have the rest of social media up in arms, including Selma director Ava DuVernay. The 43-year-old director took to Twitter with the hashtag #CelebrateStarWarsVII to honor Boyega for his breakout role. 
DuVernay had a one-word response to another Twitter user who wrote, "Let's be clear: The backlash against #BoycottStarWarsVII is what is causing it to trend."
Social media users adopted DuVernay's hashtag, which was trending Monday as well, to promote racial diversity and acceptance. 
In 2014, just 26.9% of speaking roles in Hollywood films went to nonwhite actors. The Star Wars universe is no exception, as the movies have historically featured predominantly white actors. Abrams looked to break from tradition with the cast for Star Wars: The Force Awakens and made a point to include more diverse actors, Slashfilm reports. "I think it's important people see themselves represented in film," Abrams told the audience at a 2015 San Diego Comic-Con panel discussion, CNET reports. "I think it's not a small thing."