Texas Gov. Greg Abbott Just Cut the State's Medicaid Access to Planned Parenthood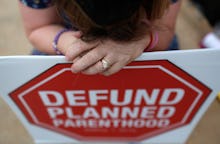 Win McNamee/Getty Images
Texas Gov. Greg Abbott doubled down on his state's reputation on reproductive health when he announced Texas would eliminate Planned Parenthood clinics from the state's Medicaid program, according to NBC News.
"The gruesome harvesting of baby body parts by Planned Parenthood will not be allowed in Texas and the barbaric practice must be brought to an end," Abbott said, referring to the recent controversy over Planned Parenthood's participation in fetal tissue donation. Such donations are legal, but Planned Parenthood announced it will no longer accept payment for them.
Nonetheless, Abbott deemed the donations were grounds for ending Medicaid's participation in Texas Planned Parenthoods. Doing so, he said, "is another step in providing greater access to safe health care for women while protecting our most vulnerable: the unborn." 
Planned Parenthood has faced attacks for decades, but the organization has been particularly targeted over the past few months. In July, anti-abortion organization the Center for Medical Progress released what it claimed to be undercover footage showing Planned Parenthood selling tissue and body parts from aborted fetuses. Despite the fact five states cleared Planned Parenthood of any wrongdoing, Republicans attempted to cut $500 million in federal aid to the organization and many politicians spoke out against the organization.
While Abbott can now count himself among this illustrious group, doing so overlooks the needs of his constituents. As of 2014, 18 abortion clinics remain open in the country's second most-populous state and the few remaining abortion providers face stringent and often costly requirements. This restricted access particularly disadvantages low-income women — the same population Planned Parenthood disproportionately benefits: 79% of the organization's patients have incomes at or below 150% of the federal poverty level and a 2009 Guttmacher Institute report found that the majority of low-income women consider family planning centers like Planned Parenthood their primary health care provider.
What's more, over a third of Planned Parenthood's activities are related to avoiding unplanned pregnancies, the Washington Post reported in 2011. The organization estimates it helps prevent 516,000 unintended pregnancies each year — a significant service given that in 2010, 54% of all pregnancies in Texas were unintended and, of those, 25% resulted in abortions, according to the Guttmacher Institute.
Planned Parenthood reports providing hundreds of thousands of Pap tests, breast exams and 4.5 million tests for sexually transmitted infection each year in its clinics across the country. Women in Texas particularly experience comparatively high rates of health issues like STIs and diabetes, Mother Jones reported in 2013, making these services crucial for this population.  
The organization has already announced it's not taking Abbott's latest action sitting down.
"We will fight back against this outrageous, malicious, political attack in Texas with everything we've got," Planned Parenthood executive vice president Dawn Laguens said in a statement. "We will protect women's access to the health care they need and deserve."
h/t NBC News