'Star Wars: The Force Awakens' Trailer And Preorder Tickets — Here's What You Need to Know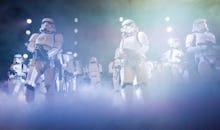 The producers behind the next installment of the infamous Star Wars odyssey, Star Wars: The Force Awakens, directed by the inimitable J.J. Abrams, have released an extended trailer into the wild in advance of the film's Dec. 18 release. Two months out, Star Wars fans jumped at the occasion to get the hype rolling. 
Perhaps unsurprisingly, the film's trailer earned itself a dedicated Reddit thread Monday night following its public debut. "Hype leads to expectations," wrote Reddit user cybercuzco. "Expectations lead to pain, pain leads to hate, hate leads to overeating in mom's basement. Mom bring me more meatloaf!" 
The echo chamber continued on Twitter:
The movie premiere will be held Los Angeles before hitting international screens in the U.K. and Australia on Dec. 17. According to the official Star Wars website, tickets are available for pre-sale for screenings across the globe. Most major cinema chains are running their own Star Wars promotions, among them Regal Cinemas, AMC Theaters, Cinemark and online ticket portal Fandango. Head here for more ticket info, participating theaters and promotion details.