2015 Presidential Poll Results: Trump Leads Republican Field in Latest 2016 Election Poll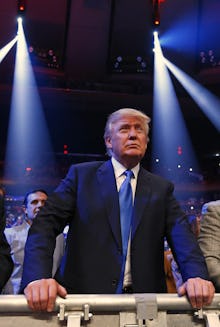 Republican presidential front-runner Donald Trump is keeping a steady lead against his top challenger, Dr. Ben Carson, the latest CBS poll shows — but not by much. 
The GOP electorate survey, conducted Oct. 4 through Oct. 8 and released Sunday, shows Trump polling at 27% among likely primary voters while Carson lags behind at 21% support, CNN reports.
The rest of the candidates don't even make double digits — Texas Sen. Ted Cruz is third at 9%, Florida Sen. Marco Rubio is neck and neck with Cruz at 8% and former Florida Gov. Jeb Bush and former Hewlett-Packard CEO Carly Fiorina are tied at 6%. 
Kentucky Sen. Rand Paul polls at 4%, followed by New Jersey Gov. Chris Christie at 3%. Former Ohio Gov. John Kasich and former Arkansas Gov. Mike Huckabee are tied at 2% each. 
Finally, former Pennsylvania Sen. Rick Santorum polls at 1% and the rest of the candidates failed to make the cut of 0.5%.
The good news doesn't stop there for the already boisterous Trump — the poll also found that 55% of Republican voters prefer their candidate to have business background, compared to 10% who surveyed they'd prefer a political background.
These results were released on the same day Trump claimed he could've prevented 9/11, blaming the attacks on a weak illegal immigration policy. "I'm extremely tough on people coming into this country," he told Fox News Sunday host Chris Wallace. "I believe that if I were running things, I doubt those families would have — I doubt that those people would have been in this country."