If You're Freaking Out About How Hot Canada's Prime Minister Is, You Should See This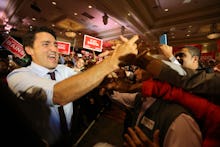 Poster boy pinup Justin Trudeau led his Liberal Party to a dramatic victory during the Canadian federal elections on Monday, ousting Conservative Prime Minister Stephen Harper.
"Canadians from all across this great country sent a clear message tonight, it's time for a change in this country, my friends, a real change," the exultant Trudeau said in his acceptance speech, the Guardian reports.
While Trudeau, political royalty as the son of former Prime Minister Pierre Trudeau (1968-1979, 1980-1984), may be easy on the eyes, what, exactly, does this "real change" look like for Canada?
The Liberal Party garnered a parliamentary majority, winning 184 out of 338 seats. Frustration over Harper's neoliberal fiscal policy — during his tenure the Canadian economy suffered — and an aggressive foreign policy left many voters disillusioned. 
Harper's nationalism and conservatism was evidenced in his poorly received suggestion to ban niqabs, the Muslim female veil, among public servants, for example. A Trudeau government offered a liberal remedy to Canada's conservative shortcomings, in the eyes of many.
Trudeau's irresistibility on social media received a boost from his staunch and vocal feminism: 
He has advocated for personal freedom when it comes to reproductive rights, arguing the government has no place mandating what women can and cannot do with their bodies.
The prime minister-designate has been supportive of minority rights too. "We will build a renewed relationship with indigenous peoples on a nation-to-nation basis," he said during a campaign stop in Halifax on Monday, CBC reports. "That will include, for example, a national public inquiry into missing and murdered indigenous women and girls. It will include $2.6 billion over four years for First Nations education."
The young politician espouses the political and social sensibilities of his father. Throughout the campaign, Trudeau echoed his father, including his efforts to unite the country across ethnicities and provinces. 
"Canada will be a strong country when Canadians of all provinces feel at home in all parts of the country, and when they feel that all Canada belongs to them," his father once famously said. 
The Liberal Party's official webpage is prominently emblazoned with a quote from Trudeau the younger, lionizing his father. "All my life I had wanted more than anything to become a dad," it reads. "I was inspired by the extraordinary father I'd had, the example he set for me to follow."
While Trudeau did not explicitly build his campaign around the family dynasty, he also did not shy away from aligning himself with his father. 
As far as climate change is concerned, Trudeau has criticized Harper for presenting the economy and the environment as a zero-sum equation and has instead argued that the two can prosper together. 
"Mr. Harper continues to pretend that there is a choice between environment and economy," Trudeau said in the Globe and Mail prime ministerial debate. "He chooses to say that you cannot build a strong economy if you're protecting the environment — and that has been his failure. He hasn't gotten pipelines built. He has made the oil sands an international pariah."
Despite the defiant victory, not to mention the embittered campaign process, Trudeau concluded on a conciliatory and inclusive note: "As I've said many times over the course of this campaign, conservatives are not our enemies, they're our neighbors."