Justin Trudeau's Style Is the New Reason to Pay Attention to Canada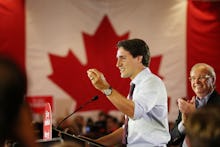 As of Tuesday morning, this is Canada's new prime minister. 
He's like a Kennedy, but more rapscallion, no? 
Just look at those baby blues. 
Right?
Yeah. 
We know. 
The man, who's quite fond of light blue button downs and a decent pair of denim, is named Justin Trudeau. After winning the national election on Monday, the Liberal Party leader's won the honor of leading Canada forward as prime minister — making him one of the most stylish politicians we've seen in a very long time. 
Need further convincing? W magazine, the high-fashion glossy, profiled the then-up-and-comer in 2008, describing him thusly: "Handsome and boyish, his dark curls flopping into his blue eyes, he's dressed in tidy jeans and a navy blazer."
"With his mother's good looks and warmth and his father's élan and idealism, he has an ease and buoyancy about him that makes it hard not to like him," W wrote. 
So he's dreamy and stylish — at least, some say so. 
The 43-year-old politician has drawn both criticism and glee over his sartorially questionable decisions. There was once a cowboy hat in his wardrobe. Also: a mustache. When he announced his candidacy for Liberal Party leadership in 2012, the media jumped on his "lackluster outfit."
"What Trudeau wore to announce his candidacy was a wee bit dull," Huffington Post Canada wrote. "And as one of the hippest, youngest members of the Liberals, we kind of expected more from him (at least something that suited his upbeat persona)."
But Trudeau has clearly learned to clean things up: In 2013, during a Liberal Party showcase, he "livened up" a suit with a bright red tie that led Huffington Post Canada to wonder, "Will his colorful accessory win Justin the race?"
Now his uniform speaks to unstuffy, youthful savvy, with light-colored button-downs and dark pants paired with bold ties — and his signature hair, which has gained a cult following all its own.
There's a reason why the media has pounced on Trudeau's looks as they have. It's because they know he's got a certain sartorial sense in his genes. He's got attractiveness running in his blood. He's got a legacy to uphold. 
This is Pierre Trudeau, Justin's late father:
The elder Trudeau served as Canada's prime minister from 1968 to 1979 and then again from 1980 to 1984. From the looks of it, he was the epitome of 1970s style. Also, he was apparently a playboy. 
According to the Globe and Mail, in an article sizzlingly titled "Pierre Trudeau and his (many) women," Trudeau Sr. had quite the reputation. 
"When Mr. Pierre Trudeau came to power in 1968, he was almost 50," the article says. "But to his hordes of groupies, he embodied the spirit of the age — youthful, irreverent, adventurous and unstuffed." He was linked to Barbra Streisand (who has spoken about him since), as well as Kim Cattrall in the 1980s.
And to some, he was the first notable politician in the country's history that had a flair for fashion, or at least the figure for it. 
"He was the first (and maybe last) PM who looked good in blue jeans," according to the Globe and Mail.
What both Pierre and Justin have conveyed with their clothing is the persona of book-smart, laid-back bachelor. Rather than presenting themselves as stuffy politicians, they have captured a style that is timeless, simple and "of-the-people" — and when it comes to politicians, what they wear can be powerful, especially casual clothes.
With Trudeau's recent win, it's safe to say that there is definitely another PM that can look quite decent in a pair of blue jeans and more. Now we'll get to see if he matches other aspects of his dad's prime minister legacy.