ASOS Pulls Bindi Products After Accusations of Cultural Appropriation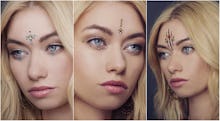 'Tis the season for appropriation "scandals." 
Online retailer ASOS found itself in hot water with some shoppers this week over its Halloween merchandise, which included bindis, a traditional Hindu decoration that goes on the forehead. 
The bindis, which are sold by the company In Your Dreams, were quickly pulled from the ASOS website, according to a spokesperson who told the Huffington Post UK, "In Your Dreams is one of the brands available on ASOS.com. It is never our intention to knowingly offend anyone, therefore these products will be removed from ASOS.com." 
ASOS also tweeted out a response to one of the concerned shoppers.
The bindi accessories are no longer available on the site, but are still for sale on the website for In Your Dreams. Up until just before the backlash on Twitter, the company had been promoting the rhinestone accessories and tagging ASOS online. 
The words on everyone's lips: The swift response from ASOS is a remarkable example of how retailers are now operating in an age where shoppers are quick to call out about "cultural appropriation."
At its core, cultural appropriation refers to the taking of a tradition or aesthetic out of its original cultural context. As a concept, it's not new; and there are certain instances of it that are more apparently egregious (the Native American feather headdress being the most prominent example).
But lately, instances and accusations of appropriation are more common than ever, often cited by online shoppers who take a critical eye to high-end designers and mainstream retailers alike. That has succeeded in starting conversations about cultural appreciation and drawing attention to artisans and traditions typically overlooked, such as Native American designers. But it's also succeeded in stirring up what Quartz's Jenni Avins dubbed "the cultural appropriation police."
"As we watch artists and celebrities being pilloried and called racist, it's hard not to fear the reach of the cultural appropriation police, who jealously track who 'owns' what and instantly jump on transgressors," she wrote.
The bindi, rooted in Hindu tradition in India, is a body decoration, one that's popped up on foreheads and music festivals and in pop videos. In 2013, Hindu leaders asked for an apology from Selena Gomez after she wore a glittery bindi — much like the ones offered on ASOS — on stage at the MTV Movie Awards.
However there are those who don't regard wearing the bindi a crime on the level of appropriation. As certain Hindu writers have pointed out, the bindi's religious connotation has shifted over the years.
"Indians appreciated the beauty of a bindi and brought it into the world of fashion several decades ago," Anjali Joshi wrote at the Huffington Post UK. "The single red dot that once was, transformed into a multitude of colors and shapes embellished with all the glitz and glamor that is inherent in Bollywood."
Whether an item is definitively appropriated or not, the current climate for fashion designers and retailers is one in which passionate shoppers and Twitter users are keeping a close watch — and in which Halloween costumes should probably tread lightly.
Mic has reached out to ASOS and In Your Dreams and will update with any comments.