Drake's Dancing in the "Hotline Bling" Video Is Getting the Best Responses on Twitter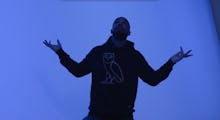 The music video for Drake's current radio anthem "Hotline Bling" was released Monday night, and the Internet found both the best and worst part of it to be the Canadian rapper's dance moves. 
Released exclusively to Apple Music, the video opens with a scene from what Drake must think a phone sex hotline office looks like in his dreams and then cuts to Drake in a neon-lit room, busting moves some are comparing to a "white dad at a barbecue" and Elaine from Seinfeld.
Naturally, the tweets about Drake's awkwardness ensued:
"Hotline Bling" has chilled steady at No. 2 on Billboard's Hot 100 for the past couple weeks and earned itself several covers, including one by singer-songwriter Erykah Badu. Drake dropped the single in July. 
Watch Drake in all his awkward glory below: