Lamar Odom Update: Latest Reports on Transfer to LA and Contact With Caitlyn Jenner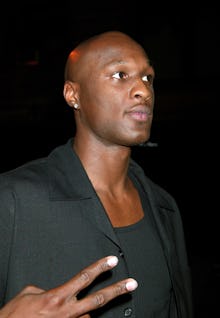 After headlines on Monday that former NBA star Lamar Odom was off life support and ready to begin physical therapy, NBC News reports that doctors are transferring the athlete to a hospital in Los Angeles for further treatment as his condition improves.
The 35-year-old collapsed at a brothel in Nevada last week and may have had traces of cocaine and "herbal Viagra" in his system at the time he fell unconscious. Odom's estranged wife, reality star Khloé Kardashian, has reportedly been by Odom's side at Sunrise Hospital in Las Vegas, where he was taken Oct. 13. At one point, Kardashian told Odom, "I love you," according to the basketball player's former coach, Jim Harrick, CNN reports. 
Caitlyn Jenner "has been in constant contact with the girls throughout this whole ordeal," an unnamed source familiar with the Kardashian family told People on Monday. According to People's sources, Jenner has not visited Odom at the Las Vegas hospital where he's been recovering. 
On Friday, Odom was conscious enough to give doctors a thumbs up and to ask to see his children. 
Odom allegedly spent four days at a Nevada brothel called Dennis Hof's Love Ranch before collapsing. Speaking to the Associated Press, Hof said Odom paid as much as $75,000 on two escorts and a VIP room. Hof told the AP Odom asked nearly a dozen women on staff at the brothel to sign confidentiality agreements.