Milwaukee Bucks Star Accuses Local Jeweler of "Degrading" Racial Profiling Incident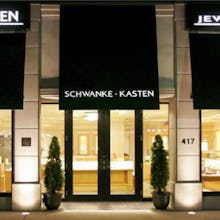 John Henson, a center for the Milwaukee Bucks, used Instagram on Monday to call out a local jewelry store in Whitefish Bay, Wisconsin, for what he called "one of the the most degrading and racially prejudice[d] things I've ever experienced in life."
According to his post, Henson approached Schwanke-Kasten Jewelers during "regular business hours" to look at a watch, only to have an employee lock the door as he neared. After telling Henson to "go away," employees proceeded to hide in the back of the store. 
The officers asked a number of questions that the basketball player described as "irrelevant," including details about his car and what Henson planned to do in the store. 
"[An officer] then had to go in the back and tell them to come out it was safe," Henson wrote, adding that he was deliberately calling out the shop by name to send a message. 
"You have no right to profile someone because of their race and nationality and this incident needs to be brought to light," Henson said. "I urge anyone who ever is thinking of shopping here reads this and doesn't bring any business to this discriminatory place." 
Henson was ultimately allowed in, but decided to take his business elsewhere.
Representatives for the store did not respond to Mic's request for comment Tuesday morning. 
The Internet, however, was available for comment. After Henson's post went viral, troll armies immediately mobilized, attacking the company on Yelp. A Facebook group, Boycott Schwanke Kasten Jewelers, also sprung up offering another comment conduit for those without Yelp accounts.
In a statement posted online, Tom Dixon, the owner of Schwanke-Kasten Jewelers, apologized for the incident and said that the store had received a number of suspicious phone calls that day and had previously decided to close up 30 minutes earlier than normal.  
"We all agree that racial profiling is never acceptable and deeply regret how circumstances unfolded Friday and today," Dixon said. "I have met John Henson in the store before. There is no excuse for what he experienced today and I hope to see him again to personally apologize."