Did Amy Schumer Steal Patrice O'Neal's Joke in HBO Special?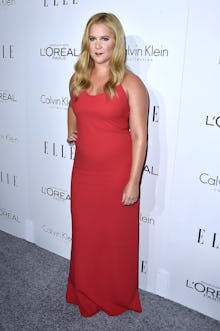 Amy Schumer's HBO special, Amy Schumer: Live at the Apollo, premiered Saturday and focused on the trials and tribulations of womanhood, landing jokes on everything from dirty underwear to degrading sex acts. While her X-rated material was refreshing and mostly well-received, Schumer is being accused of stealing some of it from the late comedian Patrice O'Neal, who appeared alongside Schumer in the Comedy Central Roast of Charlie Sheen in September 2011. 
Schumer closed her hourlong special with a bit about vulgar sex acts she's heard of, including what she called the "Lincoln" and "Houdini" — which sounded quite similar to O'Neal's description of sex acts he called "the Gorilla Mask" and "the Poltergeist" in a bit from 2006 or 2007, according to a mash-up of the two routines a YouTube user posted to the video-streaming site. O'Neal died of a stroke in November 2011. 
While the mash-up does highlight similarity between the material, it also points out that Schumer and O'Neal co-hosted a radio show called Bitch Management in 2007, which could be where the joke originated. 
However, some social media users and comedians are accusing Schumer of joke theft:
Other comedians have defended Schumer, saying she didn't steal the jokes:
Some commenters have pointed out that the bizarre sex acts weren't originated by either comedian. "Those terms have been in the Urban Dictionary for years, Patrice did not come up with them," comedian Jim Norton wrote Monday in a Facebook post defending Schumer. "People doing similar bits has been happening in comedy for as long as people have been telling jokes."