This Men's Clothing Brand Is Launching the Male Modeling Contest Fashion Really Needs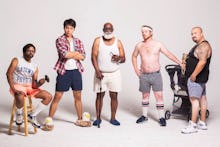 When you think "male model," you're probably thinking of a very specific kind of guy. Maybe he has chiseled abs, a strong jawline, a full head of hair, a height over 6 feet — you know, the works.
It's a good look, but not necessarily a relatable one. At least that's what Tom Montgomery, one of the four founders of the shorts company Chubbies, told Mic. Relatability and inclusivity is a big part of the Chubbies brand, which sells retro-style shorts with a strictly 5.5-inch (read: short) inseam for guys. 
That's why the company cast a friend of a friend — decidedly not a model — for its first campaign, even though his shape and size didn't fit the model norm, Montgomery told Mic. 
"It got us thinking, wow, our customer base is just full of some of the most awesome and some of the most relatable and aspirational people that we know," he said. "Why shouldn't these guys be the models in our campaign?"
That's also why the company is launching a modeling contest to find 10 guys who are as down-to-earth and anti-"model" as possible. Chubbies is looking for its version of the Victoria's Secret Angels, Montgomery said: "We're calling them the 'Chub n' Dales.'"
Clothes for the laid-back dude: It's that kind of humor and lightheartedness that's integral to the company's brand, which was founded in 2011 by four Stanford University graduates: Montgomery, Preston Rutherford, Rainer Castillo and Kyle Hency. 
The four men run the company in a genial "quadfecta of management excellence," without any CEO, according to Forbes. The company's name comes from the elastic waistband that allows men to wear the shorts when they've gained a few pounds. (Chubbies now also makes sweatshirts and the occasional accessory.)
The company was initially associated with frat bros, thanks to the unmistakable preppy look combined with the mischievous, fun-loving sensibility. But the founders insist their identity is based more broadly on a laid-back, come-as-you-are approach that embraces all men, in their chubby or schlubby glory.
The modeling contest, which launches today, seeks real men to serve as models in Chubbies ads across billboards, TV commercials and photo shoots. Hopefuls can create an online profile, answering a few questions about who they are and upload a video and photos of themselves. Chubbies will select the top 20 entries, and the public will vote to pare the 20 down to 10 favorites. 
The final 10 will get two-year modeling contracts and free Chubbies shorts for life.
So what is Chubbies looking for? Its promotional video for the Chubbies "Man Model" search features a man with wavy, shoulder-length hair, a hairy chest, full beard and a gut. No shame here — he owns it. 
It's a look rarely seen in any men's magazine.
"I will say there's a certain level of seriousness and loftiness and lack of relatability [in] men's fashion," Montgomery said. "Fashion" is a scary concept for most guys, he said. It was even a few years into the Chubbies business before he said the company saw itself as a player in the men's fashion field.
That outsider attitude is exactly why Montgomery wants to the contest to reach the non-model men of the world. Legendary grandfathers, "mathletes" and aspiring cornhole players are all encouraged to apply. Dad bods are just as welcome as chiseled bods to apply. 
According to the description paired with the promo video:
"Somewhere along the way it was decided for us, not by us, what it took to be a 'male model.' Somewhere along the way a working knowledge of Nair and gluten-free groceries became prerequisites for joining the industry. Well not anymore. We're taking a stand. Because last time we checked, this is America. Where men are not meant to be judged by the amount of pomade in their faux-hawks but by the fire in their eyes."
It's an important point worth making these days, as voices demanding body diversity and an end to fashion's narrow (and skinny) body ideal grow louder. Those voices have typically called out women's fashion, but men also face punishing body standards in the fashion world. There is a notable lack of male plus-size models, and plus-size male fashion bloggers are only now gaining more visibility as body positivity advocates. 
In this context, Chubbies joins brands like Norway's body-positive Dressmann as a notable exception in a men's fashion world that, up until this point, has been dominated by the chiseled abs of the Abercrombies and Armanis.
"The values that we have are building a community of a fun group of friends," Montgomery said. "And as big as we can possibly make that, as many people as we can possibly include in that, is awesome for us." 
Viral videos help, as will major ads on billboards and magazines. Where one company proudly goes for real dudes everywhere, hopefully more will follow, Montgomery said.
As he told Mic, "If you do that and more folks do that, that really, really democratizes the concept of what it takes to be a 'model.'"