Black Lives Matter Network Demands New 2016 Democratic Debate Focused on Racial Justice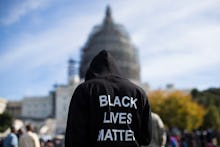 The Black Lives Matter national network is calling for a Democratic presidential debate focused exclusively on racial justice.
In a statement Tuesday, the group said it is petitioning Democratic National Committee Chairwoman Debbie Wasserman Schultz to add at least one more debate to the five that remain, in which the Democratic candidates would discuss "tangible solutions" to racial inequality in the United States.
"It is not enough to poll the presidential candidates on whether or not they think 'Black Lives Matter' or 'All Lives Matter,'" the petition, posted at Color of Change, reads. "We deserve substantive responses and policy recommendations. We deserve substance and not rhetoric. In fact, we demand it."
The petition comes a week after moderators of the first Democratic debate asked the five candidates — former Secretary of State Hillary Clinton, Sen. Bernie Sanders (I-Vt.), former Maryland Gov. Martin O'Malley, former U.S. Sen. Jim Webb (D-Va.) and former Rhode Island Gov. Lincoln Chafee — whether they think "black lives matter" or "all lives matter," a nod to the social protest movement that has coalesced in the wake of police killings of unarmed black people over the past year and a half.
The term and hashtag "Black Lives Matter" have often been used to encompass this movement for black lives as a whole. But Tuesday's petition was arranged by the BLM network, which was launched nominally in 2013 by Alicia Garza, Opal Tometi and Patrisse Cullors and has since grown to 26 chapters across the country.
Over that period, the topics of racial injustice and anti-black racism in particular have drawn increased attention from politicians. After Clinton, Sanders and O'Malley all faced criticism for their use of the term "all lives matter," which has widely been deployed to deflect or dismiss the salience of the movement, some presidential candidates have scrambled to incorporate platforms focused on ending racial inequality.
Sanders has released a racial justice platform, while Clinton has begun building criminal justice and voting rights platforms designed to address disparities in both spaces. Meanwhile, another group of protesters not affiliated with the official BLM network, including DeRay McKesson, Johnetta Elzie and Sam Sinyangwe, have met with Clinton and Sanders over the past month to discuss their own police reform platform, Campaign Zero.
But this has yet to translate to an open and public conversation among the candidates, BLM activists say. "So far [on this stage] the candidates have been using rhetoric that was gifted to them by the direct action and pressure of activists," Elle Hearns, a strategic partner with Black Lives Matter based in Washington, D.C., told Mic on Tuesday. "We're demanding more tangible solutions be presented in the debates."
The Black Lives Matter petition also makes specific mention of the importance of black voters — especially black women voters — and how that importance necessitates that candidates directly address their concerns. A Center for American Progress report states that black women voted at higher rates in the 2012 national election than any other demographic, at 70%. The petition also cites the murders of black transgender women and broader economic disenfranchisement as topics of concern.
Wasserman Schultz's office at the Democratic National Committee did not respond to Mic's request for comment Tuesday.