9 Other Jobs Joe Biden Should Consider Now That He's Not Running for President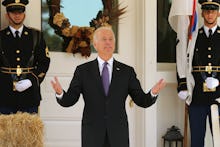 The window for Vice President Joe Biden to jump into the race for the Democratic presidential nomination has closed. 
Based on his recent public appearances — including one Tuesday morning in which he not-so-subtly took aim at Democratic presidential candidate Hillary Clinton — Biden appeared not to have gotten the memo that he should sit this one out. He has sounded very much like a candidate for president in recent weeks, despite not having officially announced his intentions.
Now that Biden has shut the door, what would he do with himself?
These questions were surely running through the vice president's mind as he weighed the pros and cons of entering the maelstrom of a presidential campaign. In the interest of providing Biden with his full range of options going forward, here are a few alternatives that Uncle Joe might want to consider as he enters the next stage of his career.
Wal-Mart greeter
Who would want to spend four years cooped up in the White House when you could spend retirement glad-handing customers and helping old ladies with their grocery bags? Biden's affable demeanor would make him perfect for a gig at Wal-Mart, where he would be joining legions of retirees desperately seeking human interaction and a few extra bucks in their pockets. Imagine the flair he would think up for his vest!
Amtrak conductor
Biden loves Amtrak, having famously commuted by rail to Washington, D.C., from his home in Wilmington, Delaware, during his decades in the Senate. What better way to enjoy life after the White House than by steering a 600-ton tube of steel down the tracks at 150 miles per hour?
Trans Am mechanic
The popular image of Biden as the fun-loving rabble-rouser making trouble in the White House is largely thanks to the Onion's series of satirical articles on the vice president, most notably a 2009 send-up titled "Shirtless Biden Washes Trans Am in White House Driveway." The piece painted a picture of Biden having "parked his 1981 Trans Am in the White House driveway, removed his undershirt and spent a leisurely afternoon washing the muscle car and drinking beer."
If he doesn't run for president (or, better yet, if he does), Biden should embrace the caricature and dive headlong into working on muscle cars. Although production of new Pontiacs ended in 2010, Biden could surely apply his newfound skills at any number of Wilmington body shops.
Sunglasses salesman at a kiosk in the mall
Another defining feature of Biden's public persona is his affinity for aviators, a well-documented style choice that is both trendy and practical. His charming manner would make him the perfect candidate for a job as one of those slightly creepy guys in the mall trying to sell you $10 sunglasses with lenses that fall out after a week. 
Ice cream taste-tester
No two ways about it: The man loves ice cream. Everyone should do what they love.
Physical therapist
In a classic moment from the 2008 campaign, Biden praised a state senator by the name of Chuck Graham at a rally in Missouri. He asked Graham to stand and be recognized.
"I'm told Chuck Graham, state senator, is here. Stand up, Chuck, let 'em see you," Biden implored him. 
Graham, of course, was in a wheelchair, as Biden quickly realized.
"Oh, God love you. What am I talking about?" Biden said. "I'll tell you what, you're making everybody else stand up, though, pal."
This incident is typically cited as evidence of Biden's propensity for committing well-meaning but insensitive gaffes. However, imagine if Graham had actually gotten up out of his chair! Biden would be praised for bringing to bear his considerable motivational skills to encourage the man to muster his strength and walk. That kind of attitude is perfect for someone looking to enter the field of physical therapy.
Masseuse
Biden's handsy manner with women has gotten him in trouble in the not-so-distant past. He has a tendency to get touchy-feely with women in both formal and informal settings to the point of making everyone uncomfortable, including the women. Why not put those skills to use by getting a massage license? Such a job would be the perfect outlet for that pent-up energy.
Mayor of Scranton
Biden loves his hometown of Scranton, Pennsylvania, and frequently invokes the values and principles he developed as part of his upbringing. The current mayor, a Democrat, is halfway through a four-year term, so Biden has more than enough time to move back home and wage an insurgent campaign.
Mongolian wrestler
OK, a bit outside the box. But Biden clearly has the build for it, as evidenced by this encounter with a Mongolian wrestler during a trip to the country in 2011.
In that same trip, Biden was also offered a horse as a gift, so Mongolian horse trainer is also in the cards as a fall-back position.
There are 384 days until the election.
This post has been updated.