Marijuana Legalization Ohio 2015: Latest News on Whether State Will Legalize This Year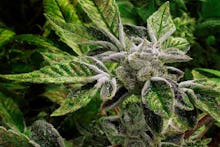 The state of Ohio will vote on legalizing both medical and recreational marijuana use on Nov. 3 after an amendment, Issue 3, earned a spot on the ballot in August. If Ohio votes in favor of Issue 3, it will become the first state to legalize both medical and recreational use in one swoop, according to WCPO. 
Chris Walsh, editor of Marijuana Business Daily, told WCPO on Tuesday that the vote is up in the air but there's certainly interest in the state. "It's coin flip right now," Walsh told WCPO. "It could go either way." 
If the state joins Alaska, Colorado, Oregon, Washington state and the District of Columbia in legalizing marijuana for all adults 21 and older, it could have implications beyond simply giving people legal weed, WCPO reports. Doing so could affect the 2016 presidential election as well. Some candidates, particularly Republicans, may consider loosening their anti-legalization stance in order to cinch young voters in the key swing state, WCPO reports. 
Here's the latest news on the state of Ohio's Issue 3:
Issue 3's biggest threat: Issue 2, which Ohio voters will also consider on Nov. 3, is pro-legalization's biggest threat. While it doesn't mention "marijuana," Cleveland.com reports, the legislation explicitly negates Issue 3. Issue 2 would bar the state from allowing a "monopoly, oligopoly or cartel," Cleveland.com reports. Supporters of Issue 2 argue that Issue 3 monopolizes the industry by listing 10 exclusive sites for marijuana cultivation. 
"Why do you want to create a situation where a small number of people make all the money?" Ohio Attorney General Mike DeWine told Fox8 on Monday.
DeWine has expressed concern about legalization's impact on children and teens as well. In a personal essay for the Vindicator, DeWine wrote of a trip he took to Colorado to speak with officials in the first state to legalize marijuana. His takeaway: Don't do it. 
"Regardless of what proponents promised, legalizing marijuana sends a message that marijuana is okay and unleashes a huge supply of the drug that easily finds its way into kids' hands," he wrote in the essay, claiming that Colorado schools have experienced a 40% increase in drug-related suspensions and expulsions. The attorney general also pointed out that he thought legalizing Marijuana was a bad idea before his Colorado visit. 
"Marijuana prohibition has failed." Issue 3 advocates say the initiative will create new jobs and open up to 1,000 marijuana stores across the state, Fox8 reports. "There's no price-fixing, we're not going to behave like a cartel, and if we do, our licenses will be taken away from us," ResponsibleOhio investor Woody Taft told Fox8.
ResponsibleOhio executive director Ian James highlights that it's already so easy to possess the drug that regulating it will only make it safer and more economical. 
"Marijuana prohibition has failed," James told Fox8. "You can get marijuana delivered to your door faster than you can a pizza," he says, "so we need to regulate, test, and tax marijuana."
According to a recent poll, conducted by Ryan Claassen of political blog the Monkey Cage and two professors from Kent State University, both Issue 2 and Issue 3 received a majority vote in Ohio. There is a possibility that both pieces of legislation will pass on Nov. 3, which could make things sticky for everyone involved and ultimately land marijuana legalization in the hands of the courts. 
It could go either way. Though Walsh told WCPO it's a toss up, he said there's a lot of interest in the marijuana industry in Ohio. "Everyone is watching that market," he told WCPO. 
Some Ohio voters expressed both support and hesitations to CBS Pittsburgh on Monday.
"People drink and party at their house, and they can do it the same way if they can just control it and do it righteous," Ronny Freshwater of Steubenville, Ohio, told CBS.
"Only thing marijuana is going to do is lead one thing to the next," William Anthony of Bloomingdale, Ohio, told CBS. "It's as simple as that. That's my opinion. I wouldn't vote for it."